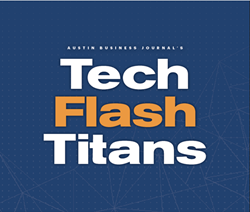 Since the company's inception, our Founder and CEO, Amir Husain has driven SparkCognition's strategic direction and innovation while simultaneously pushing the envelope of technological innovation in today's fastest growing industries - Big Data, Internet
Austin, Texas (PRWEB) November 07, 2015
Six of Austin's top technology leaders were honored Thursday evening during the second-annual TechFlash Titan Awards hosted by the Austin Business Journal. These industry titans are leading the way in Austin's most powerful sector, one which contributes over $20 Billion to the regional economy - one fifth of Central Texas' total GRP.
The TechFlash Titans awards shine a spotlight on the technology sector with the intention of honoring the leaders who are enabling the sector to flourish. Specifically, the Top Technology Entrepreneur Award recognizes an industry leader who drives an emerging company's technological strategic direction and technological innovation regardless of title, and who is also the person in the lead technology role at the company since its inception.
For video of the event, see, https://vimeo.com/144976736?utm_source=email&utm_medium=vimeo-cliptranscode-201504&utm_campaign=29220
"Since the company's inception, our Founder and CEO, Amir Husain has driven SparkCognition's strategic direction and innovation while simultaneously pushing the envelope of technological innovation in today's fastest growing industries - Big Data, Internet of Things, and Cyber Security." said Usman Shuja, VP of Market Development for SparkCognition. "As is evident by the company's organic growth, increasing revenue, expanded client and partner deals, and vast technical recognition, Amir has, and continues to, drive SparkCognition in a direction that is fundamentally changing industry."
Amir's leadership of SparkCognition has resulted in the company acquiring almost 30 enterprise accounts in a little over a year of selling, developing technology for which numerous patents are pending, successfully implementing SparkCognition's solutions at some of the largest companies globally and speaking at dozens of events including SXSW, the Asia Pacific Resilience Summit for PACOM defense, IBM World of Watson, the Industrial Internet Consortium, and many others.
"This is the type of serial entrepreneur and inventor who helped solidify Austin's outstanding business reputation." stated the Austin Business Journal. "Husain has been putting together companies since he was in graduate school in 1998 at the University of Texas."
"This award is a great honor, not just for me, and for SparkCognition, but as recognition that Austin is emerging as a global hub for artificial intelligence innovation." said Husain. "The work we are doing at SparkCognition is part of a much bigger movement to build AI 3.0, and it's happening right here in Central Texas. We are at the bleeding edge of the technology and we are leading the industry, and frankly shaping the future."
According to those who submitted Amir's nomination for Tech Titan, "Amir planted the seed of purpose when he launched SparkCognition and it has inspired everyone who has joined the company.  The results speak for themselves – a rapidly growing client base, expanding projects, growing multi-million-dollar revenue, and award-winning technology."
Amir a prolific inventor with 13 awarded and over 40 pending US patent applications to his credit. In 2013, a low cost computing platform Amir invented was inducted into the collection of the Computer History Museum in Mountain View, the world's largest such institution. His work has also been published in IEEE conferences and in leading tech journals including Network World, Computer World and others. His companies have won numerous awards such as Nokia's 2015 IoT Open Innovation Challenge, the 2015 Austin Chamber of Commerce A-List, the InnovateApp 2014 competition, the VMWORLD Gold award, Network World's Hottest Products, CRN's Innovation award, and PC World's best product award.
Amir serves as an advisor and board member to IBM Watson, The University of Texas at Austin Computer Science Department Advisory Council, Makerarm, uStudio, AM Networks, Pepper.pk, S&BMK Foundation, Alif Laila Children's Educational Society, and others.
For video of the event, see, https://vimeo.com/144976736?utm_source=email&utm_medium=vimeo-cliptranscode-201504&utm_campaign=29220
About Tech Flash Titans, Austin Business Journal  
Six masters of technology in Austin were honored Thursday evening during the second-annual TechFlash Titan Awards put on by the Austin Business Journal. These are people who are leading the way in Austin's most powerful sector — from startup investment to social media. Click on the photo to see details about each of the honorees.
Every day the Austin Business Journal sends out to thousands of subscribers around the globe our free Austin TechFlash email, and every weekly edition includes the TechFlash section. But with our TechFlash Titans awards we shine a spotlight on the sector in a whole new way to honor some of the people who have allowed this sector to flourish. For more on the 2015 Tech Flash Titans, see http://www.bizjournals.com/austin/blog/techflash/2015/11/2015-techflash-titans-of-austin-unveiled.html.
About SparkCognition
Amir Husain is a serial entrepreneur and inventor based in Austin, Texas. He is the Founder & CEO of SparkCognition, Inc. an award-winning Machine Learning/AI driven Cognitive Analytics Company.
SparkCognition, Inc. is the world's first Cognitive Security Analytics company. Its groundbreaking MindFabric platform and Cognitive Fingerprinting technology model physical and virtual assets, continuously learn from data, and derive intelligent insights to secure and protect assets round the clock. SparkCognition is based in Austin, Texas and is backed by Michael Dell's private investment firm, MSD Capital, California-based venture firm, The Entrepreneurs' Fund (TEF), and Alameda Ventures.
The company has been named a Gartner Cool Vendor, has won numerous awards, including IBM's InnovateApp 2014, and has been featured in prominent publications including Forbes and Fast Company. CIO Review selected SparkCognition as one of the top companies enabling the safety and security of the Industrial Internet. For more information on the company, its technology and team, please visit http://www.sparkcognition.com.