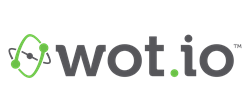 New York (PRWEB) November 09, 2015
wot.io™, the data service exchange™ for connected device platforms, today announced relationships with four more Systems Integrator (SI) companies that continue to add depth and breadth to the wot.io SI Partner Program. These companies are SIs and engineering organizations that have domain experience in connected smart products. All are capable of developing custom IoT deployments with the full value of the wot.io data service exchange IoT middleware. Moreover, these partners will help expand on or accelerate the time-to-market of IoT deployments.
"One major goal of our data service exchange is to help our customers bring their IoT deployments to market quickly, " said Mike Jeronis, COO of wot.io. "We've built a network of trusted collaborators to help us achieve that vision. These four companies all have specific sector expertise and a range of product development experience that will help our mutual customers reduce their time-to-market. "
"We believe in always using the right tool for the job," said Richard Smith, CTO of OpenPath Products. "Our IoT solutions development team works every day with a wide range of technologies, and wot.io's data service exchange is an excellent solution for the applications we choose. wot.io's flexibility and adaptability makes them a great partner in bringing quality solutions to market quickly."
"We take a consultative approach to development of our customers' IoT systems, and wot.io's data service exchange model is a natural fit for that approach," said Rick O'Brien, CEO of SemperCon. "Because wot.io's exchange is flexible and open, accommodating a wide range of connectivity solutions and data services, we can use this operating environment to develop the solution that's best suited to our customers' needs. "
The following SI partners joined wot.io's SI Partner Program:

Connected Development is a team of experts from the wireless industry who work to get IoT and M2M products to market. Connected Development offers a comprehensive suite of services including Consulting, hardware and software design, RF/antenna custom design, certification, and cloud services integration.
Innominds designs and builds software products, platforms and connected devices for the new era of digital transformation for its customers and users worldwide. It is a full lifecycle product engineering and solutions company focused on emerging technologies in Social, Mobile, Cloud and Information Processing & Security, and Internet of Everything (People, Processes, Data and Things).
OpenPath Products is one of the world's first mobile app development companies, and has been building mobile applications since 2003. The company's innovation continues today as they develop applications for IoT, smart watches, smart TV's and bluetooth beacons and sensors.
SemperCon makes business model innovation easy with its rapid development platforms for IoT, mobile and web applications. SemperCon's approach helps improve employee workflows, shift to predictive maintenance and expose new business model opportunities with Industrial Internet solutions, enterprise mobile and web applications.
About wot.io
Founded in 2014, wot.io is the data service exchange for connected device platforms. wot.io enables the enterprise customer to derive significant value from their data while dramatically accelerating time-to-market for Internet of Things (IoT) and Machine to Machine (M2M) implementations. wot.io's data service exchange of best-in-class data services enables customers to focus on building their solution while freeing them from the time consuming effort of making contractual agreements and technically integrating each data service. Through choice, time-to-market and scalability we help our customers drive ROI and increase revenue with their solution using analytics, business intelligence, data retention, device management, data management, monitoring, visualization, reporting, web API automation and other offerings.
wot.io and its logo, and data service exchange are trademarks of wot.io, Inc. All other company or product names, brands, trademarks, and logos are the property of their respective owners. All rights reserved.
###