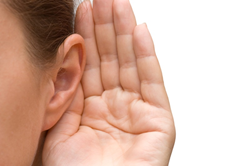 Cleveland, Ohio (PRWEB) November 09, 2015
It may be a surprise for many to learn that those suffering with hearing loss can actually hear many sounds just fine. Since most cases of hearing loss only affect higher-frequency sounds, those with hearing loss may also get the impression that their hearing is normal.
But while low-frequency sound is generally easy to hear, high-frequency sounds can be more difficult. In fact, for those with high-frequency hearing loss, they could stop hearing certain sounds entirely—even without realizing it.
In a recently published article titled 4 Important Sounds You're Missing With Hearing Loss, Cedar Audiology Associates describes four specific sounds that those with high-frequency hearing loss have difficulty hearing.
The first sounds are consonants. Speech includes a mix of high and low frequency sounds, with vowels representing the lower frequencies and consonants representing the higher frequencies. Because consonants convey most of the meaning in language, this makes understanding conversations difficult for those with hearing loss.
The second group of sounds are the voices of women and children. Because women and children tend to have higher-pitched voices, they can be more difficult to hear compared to the male voice.
The third sound is the chirping of birds. According to Cedar Audiology Associates, many patients are surprised to notice this sound return after wearing a pair of hearing aids for the first time.
And fourth, certain musical instruments can be difficult to hear. Music, in general, can lose its potency for those with hearing loss, but in particular the flute, the violin, and other high-frequency instruments can be difficult to hear.
Other sounds that may be difficult to hear include flowing water, the rustling of leaves, and the tapping of raindrops.
The key to getting these sounds back is with sound amplification with hearing aids—but not just any hearing aids from any source.
Because hearing loss affects each person differently, including the specific frequencies affected, the hearing aid needs to be programmed accordingly by an experienced hearing care professional.
About Cedar Audiology Associates, Inc.
Cedar Audiology Associates, Inc. is a full-service audiology practice that has been serving the Cleveland Ohio area for 31 years. The practice offers comprehensive services including hearing tests, hearing aid evaluations, custom hearing aid fittings, hearing aid cleanings, rehabilitative counseling, preventive care advice, musician's products, earwax removal, and service and repair for most hearing aid models.
Contact:
Helene Levenfus, Au.D.
Cedar Audiology Associates, Inc.
216-220-4984
http://www.cedaraudiology.com