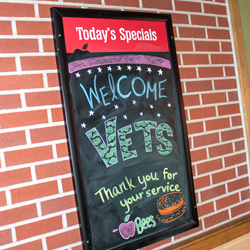 We're excited to, once again this year, provide free meals to our military heroes on Veterans Day...
Waukesha, WI (PRWEB) November 10, 2015
Wisconsin Hospitality Group, LLC (WHG) and its 36 Wisconsin-based Applebee's restaurants are proud to announce their eighth annual Veterans Day campaign. Active and retired servicemen and women are honored for their service with a free entrée (including a 7oz. sirloin and Applebee's new All-In Burger) at any of the company-owned locations on Wednesday, November 11, 2015.
More than 18,000 veterans were served meals in 2014 and WHG is hopeful that they will have the opportunity to surpass that number this year. Since the campaign inception, over 100,000 veterans have received a meal in their honor.
"We're excited to, once again this year, provide free meals to our military heroes on Veterans Day, serving thousands of veterans and active duty military here in Wisconsin," said Mark Dillon, President and CEO of Wisconsin Hospitality Group, LLC. "We are grateful for all those military members who have served or currently serve, for their dedication to our great country."
To receive their meal, guests will need to provide proof of service, which includes: U.S. Uniform Services Identification Card, U.S. Uniform Services Retired Identification Card, Current Leave and Earnings Statement, Veterans Organization Card, photograph in uniform or wearing uniform, DD214, Citation or Commendation.
WHG will also be raising funds on Veterans Day with proceeds benefitting the six Honor Flight Hubs across the state of Wisconsin. Guests will be able to donate $1 through the purchase of Honor Flight icons; larger donations are also welcomed.
Throughout the last 16 years, WHG, a local restaurant franchise group, through its Applebee's and Pizza Hut restaurants, has been able to donate more than $2.4 million in combined gifts to local charities including Children's Hospital, World Hunger Relief, Honor Flight and One Heartland. These donations were made possible by both the generosity of guests and the hard work of all WHG team members.
The company has established a non-profit foundation, WHG Cares, to centralize all of the company's fundraising efforts and to provide opportunities for tax deductible donations in the future. During all of WHG's campaigns, the company stays committed to keeping costs down and to providing 100% of the campaign net proceeds to its charitable partners.
Wisconsin Hospitality Group and its affiliates own and operate 118 restaurants across Wisconsin and northern Illinois. WHG has grown in sales to become the largest Wisconsin-based food service franchise company in the state. Headquartered in Waukesha, WHG operates 36 Applebee's Grill & Bar restaurants and 82 Pizza Hut Restaurants, all committed to guest satisfaction and community support.