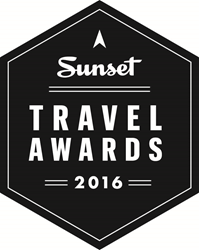 Sunset strives to be an invaluable travel resource, directing our adventure-driven readers to the West's ultimate attractions, escapes, and getaways each month.
Menlo Park, CA (PRWEB) November 10, 2015
Sunset, the premier guide to living in the West, has announced its second annual Sunset Travel Awards, honoring the West's top destinations for lodging, food and drink, and attractions and activities. Since its founding in 1898 by the Southern Pacific, Sunset has established itself as the West's most trusted source of travel information. The Sunset Travel Awards will help steer the magazine's 6 million readers to the best destinations to match their taste, budget, and interests. Award winners will be revealed in the August 2016 issue and on Sunset.com.
Submissions are now being accepted for the 2016 Sunset Travel Awards at http://www.sunset.com/travelawards.
To honor the West's standout travel destinations, organizations, and businesses, Sunset will issue awards in 20 different categories. Entry submissions are due by January 18, 2016. Finalists for each category will be selected by Sunset editors and featured on Sunset.com in February 2016. One winner in each category will be selected by the Sunset Travel Awards Advisory Board, which includes a dozen distinguished travel professionals from across the West. For more information about submission guidelines, the judging process, and the rules, go to sunset.com/travelawardsrules.
"Sunset strives to be an invaluable travel resource, directing our adventure-driven readers to the West's ultimate attractions, escapes, and getaways each month," says Bruce Anderson, Sunset Editor-at-Large. "Sunset's first Travel Awards were hugely successful in recognizing the outstanding tourism and hospitality professionals and proprietors who make our region one of the top destinations in the world."
The 2016 Travel Awards categories include:
Best Beach Town
Best Food Town
Best Adventure Town
Best Island Destination
Best Wine Country Hotel/Resort
Best Luxury Camping
Best Bed & Breakfast
Best Girlfriends Getaway Destination/Spa
Best Hotel/Resort for Pets
Best Tasting Room/Vineyard Experience
Best Mountain Hotel
Best Hotel/Resort for Families
Best Desert Hotel/Resort
Best Hotel Restaurant
And more!
The cost is $400 for entry into one category and $75 for entry into each additional category. Additional payment details and entry rules can be found here.
Stay up-to-date on the Sunset Travel Awards by liking Sunset on Facebook (http://www.facebook.com/sunsetmagazine) and by following @SunsetMag on Twitter, Instagram and Pinterest #sunsettravelawards.
About Sunset
Sunset (http://www.sunset.com) is the leading lifestyle brand in the West. Through magazines and books, events and experiences, and digital and social media, Sunset covers the West's best flavors, destinations, design trends, and innovations. Sunset engages and inspires an audience of over five million educated, active and affluent consumers every month through its five regional print editions—Pacific Northwest, Northern California, Southern California, Southwest and Mountain—as well as via all tablet devices and its website. In addition to its print and digital publications, Sunset showcases the region's unique lifestyle and noteworthy destinations through its flagship events, established home programs, licensing partnerships, books and International Wine Competition.