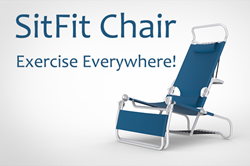 Deerfield Beach, FL (PRWEB) November 11, 2015
SitFit Chair (http://SitFitChair.com/) Debut
Announcing the launch of the SitFit Chair, a portable lounge chair that integrates a full body gym. The chair folds up and can be carried by a sling on one shoulder or like a backpack with the included straps so that users can take it anywhere and everywhere.
Dr. Tzvi Pearlstein, a retired orthopedic surgeon, came up with the idea of the SitFit Chair while he was at the beach with his daughter. They brought beach chairs with them, the kind shaped like an "L", with a high back and a seat very close to the ground.
Dr. Pearlstein accidentally fell backwards where his back was horizontal to the ground, and his legs bent, knees directed skyward. He realized that in that position, his back felt great and his legs felt weightless. He also realized that this was the position he used to use for ab crunches—lying on his back with his legs on a chair, couch, or bed. Over the next several months he reflected on this experience and came up with the idea for the SitFit Chair.
Users can relax in the chair or exercise their core and extremities. Weight and resistance bands can be added on the back of the chair for ab crunches and on the bottom of the chair for low back strengthening.
Dr. Pearlstein explains his motivation for creating this chair: "As an orthopedic surgeon, my greatest pleasure is helping patients avoid unnecessary surgery and to heal with a more holistic approach. The SitFit Chair will serve as a great tool to help people stay healthy and in shape, minimize the need for doctor visits, treatments, and surgery, and help patients recover from pain, injury, and surgery."
The SitFit Chair features:
> Adult and kids' sizes
> Portable and lightweight chair can be carried anywhere
> Offers full body workout
> Available in many colors and patterns
> Multiple comfortable chair and lounge chair positions and settings SitFit Chair, Inc. is running a Kickstarter crowdfund campaign in support of the launch of the SitFit Chair. The campaign, which launches November 10, 2015, will run through December 11, 2015, and aims to raise $49K goal. Backers can pre-order the chair for $250.00, shipping and handling included, and can expect to receive their SitFit Chairs by June 2016.
Please go to https://www.kickstarter.com/projects/sitfitchair/sitfit-chair-chairiffic?ref=nav_search , watch the video of the SitFit chair and be one of the first backers of this breakthrough innovation.
ENDS
For further information, please contact:
SitFit Chair, Inc. (http://SitFitChair.com/)
Deerfield Beach, FL
P: (844) 474-8348 | (844)4-SITFIT info(at)SitFitChair(dot)com
Dr. Tzvi Pearlstein (954)415-8693