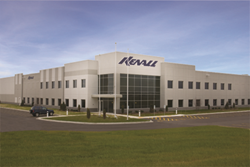 "We're honored that KABA has recognized our success, but more importantly, we're very pleased that we're growing and hiring at a steady rate."
Kenosha, Wisconsin (PRWEB) November 11, 2015
In December 2014, Kenall Manufacturing completed its move from Gurnee, Illinois to a new vertically-integrated corporate headquarters and manufacturing facility in Kenosha. Since then, the company has continued to gather steam, providing lighting for such high profile projects such as the New Parkland Hospital in Dallas, Texas, The 606/Bloomingdale Trail in Chicago, Illinois and the new MGM Resorts Festival Grounds in Las Vegas, Nevada. Thanks to this continued business success, they were recently named a Fast Five award winner by the Kenosha Area Business Alliance (KABA).
Kenall joins other Kenosha-area businesses including Hanna Cylinders, the Kenosha Kingfish Baseball Club, Mobile One/McTernan Wireless and Quest Products as 2015 Fast Five winners. The Fast Five award recognizes companies that have made a significant, recent economic impact on the business community in Kenosha County. The award criteria focuses on gains in revenue, employment growth, the introduction of a new product, service or innovation, and growth in regional, national or international exports.
Kenall Manufacturing is on track to have over 500 employees by the end of 2015 and, while the company is privately held and does not release financial data, it confirms that it has also seen a significant increase in sales revenues this year. "We're honored that KABA has recognized our success, but more importantly, we're very pleased that we're growing and hiring at a steady rate," said Jim Hawkins, CEO and second-generation owner of Kenall Manufacturing.
Kenall has introduced several new products in 2015 including TekLink™ adaptive wired and wireless lighting controls, which were recently installed at Carnegie Mellon University in Pittsburgh, Pennsylvania. Another new product, Indigo-Clean™ Continuous Environmental Disinfection, uses visible light to safely, automatically and continuously kill harmful bacteria, 24/7, in the air and on hard and soft surfaces. Indigo-Clean is currently being utilized in several health care facilities, including those at Froedert and the Medical College of Wisconsin.
Kenall and the other companies were recognized at the Kenosha County Business Excellence Awards ceremony on November 5, 2015 at the University of Wisconsin-Parkside.
About Kenall Manufacturing
Kenall Manufacturing was founded in Chicago, Illinois in 1963 and has built a reputation for durable lighting solutions of superior quality and exceptional value. Today, the company focuses on the transportation—including parking, transit and tunnel—high-abuse, correctional, healthcare, sealed enclosure and food processing markets. Kenall luminaires are designed and manufactured in the USA and meet the guidelines established under the Buy American Act and the North American Free Trade Agreement. For additional information, visit http://www.kenall.com.