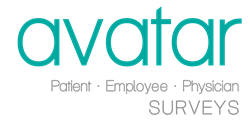 We're offering our partners a unique value proposition, and the market is responding. - Mike Sinoway, CEO, Avatar Solutions
Chicago, Illinois (PRWEB) November 10, 2015
Avatar Solutions, a leading survey research and performance improvement company, was recently named one of the nation's Largest Patient-Satisfaction Measurement Firms by Modern Healthcare.
This recognition came on the heels of Modern Healthcare's annual market research survey of patient satisfaction firms. The results of the survey were published in the November 2, 2015 issue of the magazine.
"We're pleased with the recognition," Avatar's Chief Executive Officer, Mike Sinoway, said of the results. "Over the last several years, we've dramatically enhanced Avatar's already world-class survey research technologies, online data reporting tools, and improvement consulting services. We're offering our partners a unique value proposition, and the market is responding."
Recent enhancements helping to drive that response have included predictive modeling tools that forecast hospitals' future HCAHPS star rating performance, as well as linkage analyses connecting organizations' employee engagement scores to value-based purchasing outcomes. Avatar also recently announced an innovative partnership that extends access to CG-CAHPS reporting services for members of the American Medical Group Association.
In further reflection of the market trend, Avatar has featured among the largest firms surveyed for several consecutive years. The firm has also been designated several times by Modern Healthcare as one of the nation's Largest Healthcare Management Consulting Firms.
About Avatar Solutions
Organizations partner with Avatar Solutions to improve the patient experience of care, achieve higher government reimbursement, and increase workforce engagement. Our smarter approach to survey research and performance improvement service is designed to help you deliver smarter care. To learn what Smarter Items, Smarter Insights, and Smarter Impact can do for you, visit http://www.avatarsolutions.com