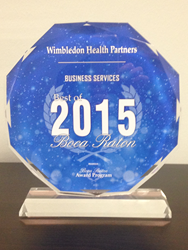 Boca Raton, FL (PRWEB) November 11, 2015
Wimbledon Health Partners, the industry leader in on-site diagnostic testing for physicians and athletic programs, has been selected for the 2015 Best of Boca Raton Award in the Business Services category.
The Boca Raton Award Program, an annual awards program honoring the achievements and accomplishments of local businesses, recognizes Wimbledon Health Partners for achieving exceptional marketing success and enhancing the positive image of small business through service to its customers and the Boca Raton community.
The Boca Raton Award Program compiled and analyzed various sources of information to choose the winners in each category, focusing on quality, not quantity. Wimbledon Health Partners is delighted to be acknowledged as a local business creating long-term value through state-of-the-art, in-office diagnostic testing and by promoting early cardiovascular testing in students at high schools, colleges and universities to help minimize sudden cardiac death.
About Wimbledon Health Partners:
Wimbledon Health Partners formed in 2013 to meet the need for on-site diagnostic testing at physicians' offices. The industry leader, Wimbledon Health Partners provides physicians with state-of-the-art, in-office testing to detect circulatory conditions using vascular ultrasound and electro- and echocardiography. Nerve conduction velocity testing is also used to support diagnosis of problems related to the nervous and muscular systems.
About Wimbledon Athletics:
Wimbledon Athletics, the newest division of Wimbledon Health Partners, is pioneering the way for high schools, colleges and universities to test students for unsuspected heart abnormalities to help minimize sudden cardiac death among young athletes.
For more information on how your office or school can partner with Wimbledon Health Partners, visit us at http://www.dxtesting.com or call us at (855) 200-8262.