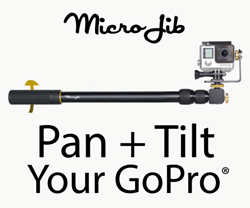 "A big goal for MicroJib as a company is promoting creativity" says Swanson. "We try our best to inspire people to get better and more engaging footage that they're going to watch over and over."
Denver, CO (PRWEB) November 12, 2015
MicroJib is the world's first and only GoPro pole allowing for 360 degrees of camera rotation while filming. This innovative camera accessory combines the functionality of a tripod, camera jib and 'selfie stick' into one sleek and portable package. Simply by turning the MicroJib's handle, a user can rotate their camera in either a Pan or Tilt motion, which closely imitates a tripod and camera jib respectively. Traditional 'selfie sticks' fix the user's camera in place, creating stagnate video with limited variation. The MicroJib's rotating functionality solves this problem, allowing users to capture more creative and dynamic video.
The MicroJib was founded and developed by young entrepreneur and videographer Ben Swanson who wanted a multi-functional tool to replace his bulky gear bag. The idea came to Swanson in late 2012 and three years and a Kickstarter campaign later the MicroJib was developed, funded and patented. "A big goal for MicroJib as a company is promoting creativity" says Swanson. "We try our best to inspire people to get better and more engaging footage that they're going to watch over and over." MicroJib has been adopted worldwide and has enthusiastic users in Asia, Australia, Europe, and South and North America.
The MicroJib is now available on MicroJib.com and Amazon. They offer a 30 day money back guarantee and extended warranty, making it a safe investment for those looking to experience the MicroJib for themselves. For inquiries about the MicroJib please email support@MicroJib.com
# # #
MicroJib is the first and only GoPro pole mount featuring 360° pan and tilt rotation. Extend your creative possibilities with MicroJib. MicroJib is based in Denver, Colorado, USA. http://www.MicroJib.com Follow @MicroJibCompany on Instagram.