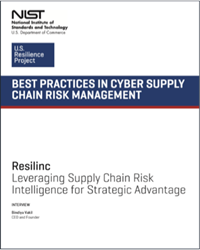 "Industry leaders like General Motors, Amgen, and EMC rely on Resilinc to mitigate immediate-term risks while achieving long-term competitive advantage."
(PRWEB) November 12, 2015
The Department of Commerce National Institute of Standards and Technology (NIST) and the US Resilience Project released a new case study today entitled: Resilinc –Leveraging Supply Chain Risk Intelligence for Strategic Advantage. The document can be downloaded here.
"We are honored that Resilinc's supply chain intelligence and analytics technology was profiled as a best practice in risk management," said Bindiya Vakil, Resilinc founder and CEO. "Industry leaders like General Motors, Amgen, and EMC rely on Resilinc to mitigate immediate-term risks while achieving long-term competitive advantage."
This case study publication provides a brief survey of historical or "traditional" supply chain risk management challenges and solutions. It then provides an overview of new technology solutions and opportunities for supporting resilience as well as security – both cyber and physical. It concludes with a discussion on the ROI of supply chain risk management program investments.
"We believe that there are synergies of solution between different types of supply chain risks – business continuity, security, integrity and quality. Supply chain mapping and other automated risk management tools strengthen overall risk management – creating the potential for gains in customer satisfaction, competitive advantage and brand and shareholder value," said Debbie van Opstal, executive director, U.S. Resilience Project. "We chose to profile Resilinc's best practices because these kinds of tools and capabilities are critical to managing risks in global supply chains."
NIST is an agency of the Department of Commerce whose mission is to promote U.S. innovation and industrial competitiveness by advancing measurement science, standards, and technology in ways that enhance economic security and improve quality of life. The U.S. Resiliency Project aims to strengthen resilience by documenting the business and economic case for resilience, capturing best practices, processes and tools for resilience, and catalyzing partnerships that leverage resources, assets and capabilities across the public and private sectors. Resilinc is the leading cloud technology provider of supply chain risk management and resiliency intelligence and analytics.