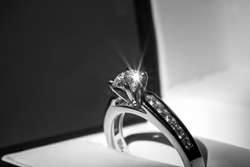 We've focused on serving our customers exactly the way they want to be served. The best way to do so is by adopting technology that supports an effortless, personalised experience, which is what NewVoiceMedia delivers
LONDON (PRWEB UK) 18 November 2015
NewVoiceMedia, a global provider of cloud technology which helps businesses sell more, serve better and grow faster, today announced that Ritani, a leading online retailer of engagement rings, diamonds and fine jewellery, is using its ContactWorld solution to deliver unparalleled service to its customers, pushing it ahead of competitors and raising its conversion rates by 30 percent.
As a luxury brand, Ritani prides itself on being able to offer its customers exceptional support. That means no waiting times and immediate, personalised attention for every customer who contacts the company. It also means using the most innovative technology to offer the best and easiest experience to customers.
"Most of the jewellery industry hasn't been quick to adopt innovation, and we believe that's a major oversight", said Simon Tam, CTO of Ritani. "Today's consumers are used to services being quick, easy and universally accessible. With that in mind, we've focused on serving our customers exactly the way they want to be served. The best way to do so is by adopting technology that supports an effortless, personalised experience, which is what NewVoiceMedia delivers".
"Ritani is really disrupting the jewellery industry because it's applied the latest technology innovations to an industry that's steeped in tradition and made it better", said NewVoiceMedia CEO Jonathan Gale. "And because it's serving customers who are much more emotionally invested in their purchases than the average buyer, the stakes are far higher than for other vendors. We're delighted that ContactWorld has enabled the company to take such a successful approach".
Ritani has deployed a unique clicks and brick experience by allowing visitors to its site to design a custom engagement ring and choose to either ship it directly to their home or office, or to an independently owned local jeweller in their area for a 'free in-store preview'. This provides customers with the ultimate assurance that they are purchasing the perfect ring for their betrothed. The company is equally accommodating through all means of contact with its non-commissioned support staff; be it via online chat, email, or toll-free number, Ritani's aim is to provide a superior experience for an exceptional product.
"When people are buying diamond rings, it's usually one of the most important purchases of their lives", Tam said. "They deserve to have every detail perfect, and if they have questions, they deserve immediate answers. Thanks to ContactWorld's integration with Salesforce, NewVoiceMedia ensures we deliver what our customers expect every single time".
Ritani also uses the technology to inform the way it structures its service organisation. The company uses the reporting feature to understand market trends and track activities through both its call centres and website, making it easier to identify correlations between the two and concentrate resources where they're needed.
For more information, download the full case study at http://www.newvoicemedia.com.
Salesforce, Salesforce1, AppExchange and others are among the trademarks of salesforce.com, inc.
About Ritani
Ritani is a premium jewellery brand modernising the way consumers purchase engagement rings and fine jewellery. Founded in 1999, Ritani marries the online shopping experience for handcrafted and custom-made engagement rings, loose diamonds, and other fine jewellery with a network of trusted local luxury jewelers in one seamless transaction. Ritani is headquartered in New York with e-commerce operations in Seattle. Jewellers interested in becoming a Ritani retail partner can contact Ritani at partner(at)ritani(dot)com
About NewVoiceMedia
NewVoiceMedia powers customer connections that transform businesses globally. The leading vendor's award-winning cloud customer contact platform revolutionises the way organisations connect with their customers worldwide, enabling them to deliver a personalised and unique customer service experience and drive a more effective sales and marketing team. With a true cloud environment and proven 99.999% platform availability, NewVoiceMedia ensures complete flexibility, scalability and reliability.
Spanning 128 countries and six continents, NewVoiceMedia's 500+ customers include PhotoBox, MobileIron, TNT, Lumesse, Qlik, JustGiving, Canadian Cancer Society and Wowcher. For more information visit http://www.newvoicemedia.com or follow NewVoiceMedia on Twitter @NewVoiceMedia