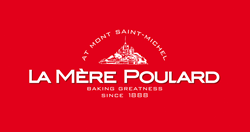 Based on the original recipes, we decided to develop the famous biscuits of la Mère Poulard 15 years ago," says Eric Vannier, CEO of La Mère Poulard, "and gradually launch them on the international scene
New York, New York (PRWEB) November 16, 2015
A symbol of French gastronomy, the buttery delicacies are renowned for their unique taste. Made from secret recipes dating the 19th century, the biscuits are baked with only natural ingredients. With no preservatives or artificial additives, non-GMO and vegetarian, they will delight every palate.
Present today in more than 70 countries, La Mère Poulard was born at the bottom of the Mont Saint-Michel, a renowned pilgrimage destination for centuries. In 1888, Annette Poulard, the local baker's wife, opened a small inn to feed the passerby's. Her amazing cooking and baking was a blessing for many who came by the Mont Saint-Michel. For more than 50 years she baked butter biscuits for the visitors of the Mont Saint-Michel.
"Based on the original recipes, we decided to develop the famous biscuits of la Mère Poulard 15 years ago," says Eric Vannier, CEO of La Mère Poulard, "and gradually launch them on the international scene". "Today we are delighted to partner with Brands Within Reach to help the American consumer discover La Mere Poulard and elevate it to the next level" adds Mr. Vannier.
"Brands Within Reach has been eager to add a new treat to its portfolio", says Olivier Sonnois, team leader at BWR. "We are excited to launch this authentic French tradition of butter biscuits here in the United States. The tradition and recipes behind these biscuits is ancestral and they are probably the best tasting butter biscuits only made with natural ingredients", he adds.
La Mère Poulard
Produced in France, with the traditional and simple ancestral know-how, La Mère Poulard is introducing three delicious biscuits on the US market: The Sablés (traditional butter biscuits), the Caramel biscuits and the Palets biscuits (shortbreads).
Baked with natural ingredients originating only from France such as butter from hormone free cows and eggs from free-range hens, the biscuits are non-GMO and contain no artificial flavors or additives.
About Mont Saint-Michel
Located between Brittany and Normandy, built on a small granite island in the center of a bay invaded by the largest tides in Europe, the Mont Saint-Michel defies centuries. Initially erected at the request of the Archangel Michael, the first church was built in 709. In the 12th century, Roman monastic buildings were added and Mont Saint-Michel became an abbey. Today, the architecture of the church-abbey is a wonderful combination of Carolingian, Roman and Gothic styles. Listed as a UNESCO World Natural and Cultural Heritage Site since 1972, Mont Saint-Michel is the third most visited tourist site of France with more than 3 millions visitors per year.
La Mère Poulard is distributed exclusively by Brands Within Reach, LLC in the United States - 1.847.720.9090 - http://www.bwrgroup.com - 141 Halstead Ave, Mamaroneck NY-10543
For additional information about La Mère Poulard – lamerepoulard(at)bwrgroup.com
http://en.merepoulard.com