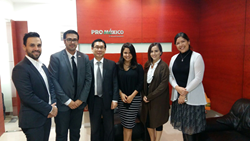 Tijuana, Mexico (PRWEB) November 13, 2015
In November Vice president of the Tijuana EDC, Christian Tagliapietra, took part in a delegation headed by the Baja California Secretary of Economic Development on a trade mission to Korea and Taiwan with the aim of promoting Baja California´s manufacturing industry and to boost foreign investment in the state.
The delegation comprised of government officials and business executives made a first stop in Korea where they were honored with a welcome reception hosted by Mexico's ambassador to Korea and Promexico´ s representative there.
During the event, representatives of Baja California universities discussed technical colleges, engineering programs and the vital role that universities play in educating the workforce to meet future needs of industry. They also discussed forging new international partnerships among Baja California´s and Korea's colleges and universities.
This trade mission was also designed to facilitate follow-up discussions about projects and business opportunities generated during previous trips.
In conjunction with the Korean leg of the mission, one-on-one meetings with companies in the aerospace, automotive, metal mechanics and plastics sectors were held where the delegation emphasized the ease of doing business in Baja California, opportunities to supply local industry serving the U.S. market, and available incentives to start manufacturing operations in the state.
During the Taiwan leg of the mission, the delegation met with sporting goods manufacturing companies and networked with the Taiwan Medical and Biotech Industry Association.
The sporting goods manufacturing sector has been identified as a high-potential opportunity due to challenges related to increasing costs and high turnover rates faced in Taiwan and China. There is an increasing interest within the industry to examine new alternatives that would bring high-end sporting goods manufacturing closer to its natural market in the U.S. by relocating operations to Baja California.
The Taiwan Medical and Biotech Industry Association, represents around 400 medical device and biotech companies and more than 100,000 jobs in Taiwan. Government officials on the mission worked to position Baja California as Mexico´s top choice for medical device manufacturing, holding the largest concentration of companies and employment in the country. Officials also highlighted the proximity to San Diego, one of the top five life science clusters in U.S.
"It was a great networking opportunity and we saw excellent responses, specifically from the medical device sector," said Christian Tagliapietra. "The association representatives expressed interest in organizing a reciprocal trade mission to Baja California in the next year to allow Taiwanese medical device companies to tour some Baja California's manufacturing facilities and meet with local companies in search of opportunities to supply Mexico's largest medical device cluster."
Promexico hosted "The Mexico Week" in Taiwan an event to showcase the country's advanced manufacturing industry. Baja California delegation participants were invited to talk about business opportunities in specific sectors such as aerospace and defense, electronics manufacturing, and medical device manufacturing.
During the seminar, Tagliapietra spoke about how to get started manufacturing in Mexico and highlighted business opportunities in Tijuana. He presented various options for establishing a manufacturing operation in Mexico and competitive advantages of manufacturing in the city of Tijuana.
The trip concluded with a tour of Hsinchu Science Park which is known as Taiwan´s Silicon Valley. Hsinchu is the country´s first government owned industrial park focused on semiconducters and new technologies. The purpose of the visit was to study how this project fuels domestic innovation. Many high-tech products created at Hsinchu rank first in world production and have won awards at multiple international competitions. The park was founded in the 80's, but has been so successful that several regions of Taiwan and many countries have replicated the model.
"Hsinchu is a great example of how to build tech-hubs to attract and retain the right talent and to drive technological innovation," finished Tagliapietra. "Hsinchu locally produces advanced research and builds next generation products that sell globally. It is an intriguing model for the CaliBaja region – already home to some of the most innovative companies in the world."