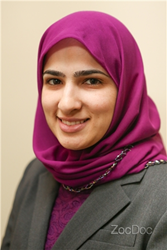 Birmingham, Lake Orion, Clarkston, Metamora, Michigan (PRWEB) November 13, 2015
Kulsoom Jafri is a caring and diligent OB-GYN caring for the communities of Lake Orion, Clarkston, and Birmingham, MI. Dr. Jafri attended Virginia Commonwealth University, where she earned her degree in medicine. She then completed her residency in obstetrics and gynecology at the same institution.
Dr. Jafri is a part of Women's Excellence in OBGYN and is affiliated with Beaumont Hospital in Royal Oak, MI. She welcomes patients who speak English, Spanish, and Urdu. Her awareness of these different languages makes her accessible to patients from a variety of cultural backgrounds. Patients see her for a variety of reasons, including acne, gynecology consultations, annual physicals, migraine, and pelvic pain.
Dr. Jafri received the C.C. Clayton Award for outstanding academic achievement. Dr. Jafri enjoys giving back to her community and has volunteered at Richmond Area High Blood Pressure Center. She is deeply committed to the well-being of her patients. She takes a thorough and precise approach to her consultations to ensure that she is consistently giving accurate diagnoses.
Women's Excellence is the most comprehensive obstetric and gynecologic office in Michigan. They also specialize in menopause, weight control, bladder control, endometriosis, robotic surgery, pelvic floor physical therapy, and midwifery services. The knowledgeable, well-trained, compassionate physicians and healthcare providers of Women's Excellence are taking new patients and are conveniently located in four locations throughout southeastern Michigan, Birmingham, Lake Orion, Clarkston and Metamora. For more information, visit http://www.womensexcellence.com.