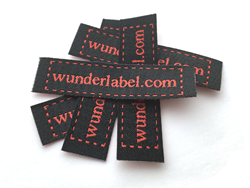 "I wouldn't be surprised if we discover the future Ralph Lauren or Tommy Hilfiger amongst our current base of satisfied customers"
New York (PRWEB) November 17, 2015
Attention: Designers, Crafters & Artists
Wunderlabel, the world's fastest growing online source for custom labeling, is proud to announce their successful launch in the US and Canada, with sales numbers climbing at a steep trajectory.
Wunderlabel's fun-to-use Online Creative Tools allow users to design Custom-made Woven labels, Printed Satin labels, Care labels, Size labels, Hang Tags, Brand Stickers, and Gift Ribbons -- at affordable prices. Along with the Wunderlabel Online Creative Tools comes top-notch customer service and expert phone support. Delivery is direct-to-buyer within one week – that's faster than anyone else in the field. Rush orders? No problem, with Wunderlabel's expedited shipping option.
The Wunderlabel mission is to empower designers, artists, small boutiques and crafters with premium labeling tools to maximize their brand exposure in both retail and e-commerce.
"The instant you sew an elegant custom label onto your product; it transforms the garment or artwork from obscurity to becoming an authentic brand", says Philip Linde, Wunderlabel's CEO.
Wunderlabel helps businesses grow, and their steady growth has been driven by customer prosperity. Buyers often start with a 50 piece order for Standard Woven Labels; returning a few months later with a specialty order for 1000 Custom Logo Labels. "We are proud to help the small-scale crafters, artisans and designers develop their businesses by adding an element of distinction and professionalism to their work', says Philip. "I wouldn't be surprised if we discover the future Ralph Lauren or Tommy Hilfiger amongst our current base of satisfied customers he adds.