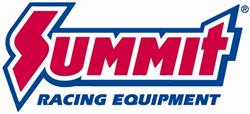 Tallamdge, OH (PRWEB) November 27, 2015
Be a hero on Christmas Day--put some Traxxas RC vehicles under the tree. Summit Racing carries 21 Traxxas RC trucks and cars, plus a cool helicopter and even a racing boat for the nautical people on someone's holiday list. Here are some Traxxas favorites:
LaTrax Alias Quad Rotor Helicopters
Fly, hover, buzz the dog—do it all with the Alias. The unique flight control system and six-axis stability control lets even new pilots fly faster and perform aerobatic maneuvers quickly. Features include:

Molded composite body that's lightweight and virtually indestructible
Quad-rotor thrust with auto-leveling 6-axis flight system
Four high-output electric motors—50% more powerful than standard motors
2.4GHz channel-less radio system with video game-style controls for ease of use
LED lights in rotor struts for night flying
Elevated rotors prevent tangles when landing in grass
Fully assembled, includes 650mAh LiPo battery and USB-powered battery charger
Slash 4x4 Short Course Race Trucks
These 1/16 scale Slash 4x4 race trucks set the standard for short course fun with breakneck speed and track-ready handling. Features include:

Titan 550 12T high-torque motor—same motor used in Traxxas 1/10 scale trucks
XL-2.5 electronic speed control with three drive modes and one-button setup
2.4GHz two-channel radio controller
Full-time four-wheel drive for superior handling and control
Suspension based on Traxxas' race-winning Revo monster trucks
Torque-Control™ slipper clutch
Sealed differentials
Waterproof electronics
Durable polycarbonate body shell with replica graphics
Six-cell Power Cell NiMH battery and two amp DC fast charger included
Stampede VXL Monster Trucks
Available in two- or four-wheel drive, these 1/10 scale trucks can top out at 65-plus MPH. Features include:

Traxxas Stability Management (TSM) enables full-throttle acceleration on slippery surfaces without loss of control, automatically corrects during high speed cornering
Velineon 3500 brushless motor
Velineon VXL-3 electronic speed control with Sport, Race, and Training Mode modes
Training Mode limits full-throttle power to 50% for use by young or new drivers
Torque-Control slipper clutch delivers smooth operation and consistent traction control
• TQi 2.4GHz controller—fully adjustable for steering, throttle, and braking

Digital high-torque steering servo
Precision steel turnbuckles with heavy-duty rod ends
Front suspension tie bar
Steel transmission gears
Rubber sealed ball bearings at the wheels
ProGraphix painted body
8.4V Power Cell NiMH battery and four amp DC fast charger included
Telluride Extreme Terrain 4x4 Trucks
The Telluride Extreme Terrain trucks are engineered for off-road duty, from rock crawling to trails to high-speed desert banzai runs. The 1/10 scale trucks feature:

Shaft drive four-wheel drive system with telescoping U-jointed driveshafts
Long-travel suspension
Fully adjustable shocks with powercoated springs
Dual bellcrank steering system with high-torque steering servo
Modular fiber-composite chassis disassembles easily for service
Revo-spec differentials
High-stall gear clutch
Kumho replica tires on beadlock-style wheels
Titan 550 12T high-torque motor with internal cooling fan
XL-5 electronic speed control with three drive modes including Training Mode
2.4GHz two-channel radio controller
Fully waterproofed electronics
Solid camber links and captured rod ends that won't pop off
ProGraphix multi-colored painted body
Seven-cell Power Cell NiMH battery and four amp DC fast charger included
Summit Racing also carries Traxxas batteries, motors, servos, controllers, and other components to fix or upgrade a vehicle.
Summit Racing Equipment
http://www.SummitRacing.com
1-800-230-3030