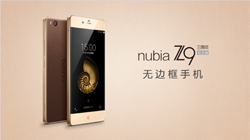 Kansas City, MO and Shenzhen, China (PRWEB) November 18, 2015
nubia just announced their latest market-leading Android smartphone, the nubia Z9 3rd Anniversary Version, and EyeVerify is pleased that this latest version includes EyeVerify's Eyeprint ID. In the three years since the launch of the nubia brand, each new model brings more scientific and technological innovations to mobile phones.
Users purchasing this latest version of the nubia Z9 family will be able to enroll their Eyeprint out of the box in less than 20 seconds. From there, users can use their Eyeprint to keep their device or individual apps locked away from hackers or nosy neighbors. A quick selfie is all that's needed to unlock their device or any app. nubia has achieved lightning fast speeds with the latest version of Eyeprint ID - in most cases verification takes less than 600 milliseconds (6/10 of a second). Payment grade accuracy is already built into this version of Eyeprint ID, enabling future use cases for mobile payments and financial services on nubia devices.
"The nubia product and security teams performed extensive evaluations and trials of biometric solutions and determined that Eyeprint ID is the best available option for both ease of use and security," said Ni Fei, General Manager of nubia brand & Senior Vice President of Nubia Technology Co., Ltd. "We are pleased to bring this innovative solution to market on the nubia Z9."
"We are very pleased to announce this commercial release with such an innovative partner and leading smartphone brand," said Chris Barnett, EVP Global Sales & Marketing at EyeVerify. "I love the user experience nubia has created on their devices with Eyeprint ID and I believe that they have set a new, higher standard for the market regarding biometrics."
To see a short demo video, visit the EyeVerify channel on YouTube at http://www.youtube.com/c/EyeVerify. Residents of China can view the video at http://i.youku.com/eyeverify.
About nubia
Founded in October 2012, nubia aims to bring high-end innovative smartphones to adventurous users who want to pursue new experiences and an enhanced quality of life. With headquarters in China, nubia now has operations around the world including China, North America, South America, Northern Europe, Russia, Southeast Asia and India. The brand is known for its innovative features and professional photography functions.
About EyeVerify and Eyeprint IDTM
Unlock every opportunity with Eyeprint ID – created by EyeVerify Inc. One look opens mobile devices, logs you into apps and secures your mobile payments.
Eyeprint ID transforms an ordinary selfie into a key that protects your digital life. This patented, software-only biometric solution is 99.99% accurate and extremely scalable. In less than one second, with no add-on hardware, employees and customers will experience password-free mobility. Eyeprint ID has been deployed by three of the world's ten largest Android OEMs and more than a dozen financial institutions - delivering convenient, secure, private authentication to millions of consumers today.
Try Eyeprint ID right now. Get the demo and the SDK for developers at http://www.eyeverify.com.