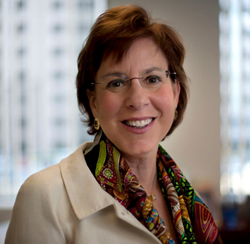 Habitat for Humanity's efforts in facilitating housing solutions are well recognized and I am proud to be joining Seattle's impressive team
Renton, WASH. (PRWEB) November 18, 2015
Habitat for Humanity Seattle-King County (Habitat SKC) announced today that Gail Luxenberg is joining the organization as CEO. An experienced non-profit leader with more than 20 years of executive experience, Luxenberg has a consistent track record of growing numbers served, attracting and retaining strong staff, recruiting board members and increasing philanthropic dollars.
Luxenberg was formerly the CEO of the Marcus Jewish Community Center of Atlanta (MJCCA), the third largest JCC in the country. At MJCCA she managed a $7 million Capital Campaign, $22 million budget and a team of 250 year-round staff and 1,000 staff during the summer months. Under her leadership the MJCCA was named as one of Atlanta's top places to work, four years running. She was also named one of Atlanta's Top 50 Influential Non Profit Leaders by the Atlanta Business Chronicle.
Erik Cullen, Habitat SKC Board Chair, commented: "We are extremely pleased that Gail is joining us. She has an incredible track record and brings a wealth of experience to the organization. Her skills will be key as we seek to revitalize neighborhoods and serve more families in King County, and build on the great work of the affiliate, one of the top 1% of Habitat affiliates across the United States."
Prior to joining the MJCCA, Luxenberg served as executive director of the Jewish Vocational Service in Chicago. Additionally, Luxenberg served as director of marketing and new business development for the American Medical Association, and she began her career working in the business and publishing worlds, holding positions in sales and marketing.
Commented Luxenberg: "I am thrilled to be transitioning to a new home and a new opportunity. Habitat for Humanity's efforts in facilitating housing solutions are well recognized and I am proud to be joining Seattle's impressive team."
About Habitat for Humanity Seattle-King County
Habitat for Humanity SKC, an affiliate of Habitat for Humanity International, is a faith-based, nonprofit housing organization that brings people together to build homes, communities and hope. Habitat SKC is dedicated to eliminating substandard housing through constructing, renovating and preserving home; by advocating for fair and just housing policies; and by providing training and access to resources to help families improve their shelter conditions. Habitat SKC build more than houses – we transform local communities. Habitat SKC has built, renovated or repaired more than 400 homes for families in need of affordable housing in King County. For more information, to donate or to volunteer, please visit http://www.habitatskc.org, or follow us on Facebook or Twitter.
###