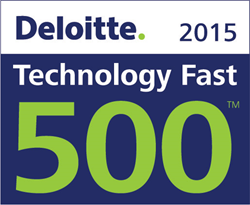 We are honored to receive this prestigious ranking for our revenue growth of 182%. - Michael Praeger, CEO & Co-Founder of AvidXchange
Charlotte, NC (PRWEB) November 19, 2015
AvidXchange™, a leading provider of AP and payment automation solutions, is pleased to announce that they ranked on Deloitte's Technology Fast 500™, a ranking of the 500 fastest growing technology, media, telecommunications, life sciences and clean technology companies in North America for the second year in a row. AvidXchange™ grew 182% percent from 2010 – 2014.
"We are honored to receive this prestigious ranking for our revenue growth of 182%. I strongly feel that our growth is directly tied to our focus on innovation," commented Michael Praeger, CEO and Co-Founder of AvidXchange. "We are committed to delivering cutting-edge solutions in the payables space to solve business problems and create efficiencies, and we have invested in top talent to create what's next for accounts payable automation and to facilitate a great client experience as we grow," added Praeger.
"Amid a fierce business climate, there seems to be no shortage of new and established companies that are unlocking a seemingly unlimited potential for growth and advancement through technology's continued disruption and proliferation across industries," said Sandra Shirai, principal, Deloitte Consulting LLP and U.S. technology, media and telecommunications leader. "It is inspiring to witness the innovative ways that companies are incorporating emerging technologies for business gains, be it cognitive computing, or the Internet of Things. We congratulate all those ranked on this year's Fast 500 and look forward to seeing their continued growth into 2016."
"Through the efforts and utilization of new and emerging technologies from these companies, we are witnessing greater business demands from across almost all industries," added Jim Atwell, national managing partner of the emerging company practice, Deloitte & Touche LLP. "We look forward to the opportunity to serve these companies as they strive to grow to the next level – be it towards introducing new solutions or entering new markets – and with it make important and long lasting impressions on the technology market as a whole."
Overall, 2015 Technology Fast 500™ companies achieved revenue growth ranging from 109 percent to 21,984 percent from 2011 to 2014, with an average growth of 850 percent.
About Deloitte's 2015 Technology Fast 500™
Deloitte's Technology Fast 500 provides a ranking of the fastest growing technology, media, telecommunications, life sciences and energy tech companies – both public and private – in North America. Technology Fast 500 award winners are selected based on percentage fiscal year revenue growth from 2011 to 2014.
In order to be eligible for Technology Fast 500 recognition, companies must own proprietary intellectual property or technology that is sold to customers in products that contribute to a majority of the company's operating revenues. Companies must have base-year operating revenues of at least $50,000 USD or CD, and current-year operating revenues of at least $5 million USD or CD. Additionally, companies must be in business for a minimum of five years and be headquartered within North America.
About AvidXchange
AvidXchange revolutionizes the way companies pay their bills. Serving more than 5,200 clients throughout North America, AvidXchange is an industry leader in automating invoice and payment processes for midmarket companies spanning multiple industries including Real Estate, Financial Services, Energy, and Construction. AvidXchange has been recognized as one of the 50 fastest-growing private companies in the Charlotte area for four consecutive years, ranked among Deloitte's Fast 500 this past year, and recently was named of the top 100 technology companies in North America by Red Herring. In the midst of record growth, AvidXchange has remained true to its most valued competitive advantage—its people. AvidXchange has been recognized as one of the Best Places to Work in Charlotte for six consecutive years. For more information, contact us at 800.560.9305 or [email protected]