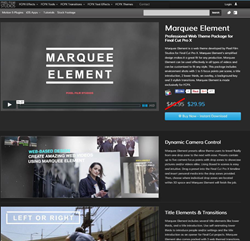 Marquee Element presets allow theme users to travel fluidly from one drop zone to the next with ease.
Aliso Viejo, CA (PRWEB) January 07, 2016
Marquee Element is a web theme developed by Pixel Film Studios for Final Cut Pro X. Marquee Element's simplified design makes it a great fit for any production. Marquee Element can be used effectively in all types of videos and can be customized to fit any style. This package includes environment shots with 1 to 5 focus points per scene, a title introduction, 2 lower thirds, an overlay, a background key and 3 stylish transitions. Marquee Element is made exclusively for FCPX.
Marquee Element presets allow theme users to travel fluidly from one drop zone to the next with ease. Presets contain up to five camera focus points with drop zones to showcase pictures and/or videos alike. Using Boxed In scenes is easy and intuitive. Drag a preset into the Final Cut Pro X timeline and insert personal media into the drop zones provided. Then, choose where individual drop zones are located within 3D space and Marquee Element will finish the job.
Marquee Element includes several title elements like lower third, and a title introduction. Use self-animating lower thirds to introduce people and/or settings and the title introduction as an opener for Final Cut projects. Marquee Element also comes packed with 3 web themed transitions. Smoothly animate from one frame to another or wipe the screen using transitions from Pixel Film Studios.
Add texture and dust effects on top of footage by dragging and dropping Marquee Element's dust overlay into Final Cut Pro X. Overlays can be manipulated using color, opacity, focus and more parameters. Take advantage of Marquee Element's background key as a backdrop for media and text. Customize parameters to create all-new self animating looks.
Marquee Element is extremely easy to use in Final Cut Pro X. Browse through the generators and insert the preset with the desired camera movement into the FCPX timeline. Next, insert personal pictures or videos into the drop zones provided. Then, edit the position and rotation of drop zones within the 3D space. Finally, alter the text and change the style using the controls provided in the inspector window. Marquee Element will do the rest.
Established in 2006, Aliso Viejo, California-based Pixel Film Studios is an innovative developer of visual effects tools for the post-production and broadcast community. Their products are integrated with popular non-linear editing and compositing products from Apple FCPX. Apple, the Apple logo, Mac OS X, and Macintosh are registered trademarks of Apple Inc. in the U.S. and/or other countries. All other trademarks and trade names are the property of their respective owners.