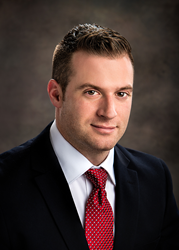 We are fortunate such a strong leader had the desire to come to Lake Vista; he's smart, experienced and approachable
Cortland, OH (PRWEB) November 19, 2015
Dean Palombaro, a successful retirement community executive and a Youngstown native has been chosen to lead Lake Vista of Cortland. Immediately prior, he was the administrator at Rockynol, Lake Vista's sister campus, in Akron, OH. Lake Vista of Cortland and Rockynol are two of Ohio Presbyterian Retirement Services' (OPRS) 12 continuing care retirement communities in Ohio.
"Dean has been with OPRS for two years, in a leadership role, at our sister community, Rockynol, in Akron. We are fortunate such a strong leader had the desire to come to Lake Vista; he's smart, experienced and approachable," says OPRS Chief Operations Officer Daniel J. O'Connor.
An innovative director with experience in long term care, Palombaro also has strong financial and operational knowledge. Management of the entire campus, including its independent living, assisted living and rehabilitation center, are under his direction
.
"Lake Vista has a solid reputation of providing the highest-quality care and services possible. It's my privilege to serve our residents and staff in a manner that's consistent with our Christian mission," Palombaro says.
Before OPRS, he held the executive director position at the Eliza Jennings Home, Cleveland, OH. He also served as the administrator for skilled nursing and rehabilitation for The Renaissance – Olmsted Township, OH. He holds a Bachelor of Arts degree from The College of Wooster, Wooster, OH and a Masters of Business Administration from Cleveland State University, Cleveland, OH.
Palombaro is succeeding former Executive Director Richard Miller who accepted a position with an organization based in San Diego, CA.
About Lake Vista
Lake Vista of Cortland is one of 12 retirement communities owned and operated by OPRS Communities, a wholly-owned subsidiary of Ohio Presbyterian Retirement Services (OPRS), headquartered in Columbus. Since 1922, OPRS has defined the highest standards of quality of life for older adults. Each year, OPRS serves more than 73,000 people in 49 counties through its wholly owned subsidiaries OPRS Communities and Senior Independence.