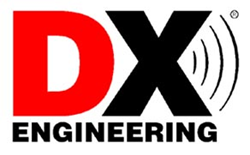 Tallmadge, OH (PRWEB) November 20, 2015
The DX Engineering AFHD-4 Antenna is a purpose-built AM/FM/HD receive antenna designed specifically for audiophile-grade and vintage radios. The antenna is also a great option for community-antenna applications, like those found in retail stores and apartment complexes. It improves analog signal reception and mitigates annoying HD digital phasing issues and "drop outs."
The AFHD-4 boasts an omnidirectional receive pattern, with 520-1620 kHz (AM) and 88 to 108 MHz (FM) coverage. It features a slim, low profile vertical design, yet achieves impressive gain on both the AM and FM bands. Testing demonstrated the following typical receive ranges (Range is dependent upon broadcast station transmit power):

FM stereo, 80 miles
FM digital, 50 miles
AM mono, 90 miles
• AM digital, 50 miles
Better still, the antenna is served by a single run of RG-6 coaxial cable, sold separately. The antenna package includes a splitter that sends each signal to the appropriate antenna port on the receiver. This greatly simplifies installation, and keeps cable runs neat and tidy.
The DX Engineering AFHD-4 AM/FM/HD comes with the 4 foot antenna, the AM/FM band splitter and a coax to twin-lead adapter. It also includes a clever mounting bracket that works for both mast- and wall-mount installations.
DX Engineering
http://www.DXEngineering.com
1-800-777-0703