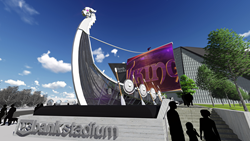 "As a long-time resident of Minneapolis, I am honored that we are a part of this new monument for Vikings fans," said John "Ozzie" Nelson Jr, Chairman and CEO of NWH and its companies
Minneapolis, MN (PRWEB) November 19, 2015
While Vikings fans anxiously await the completion of U.S. Bank Stadium in downtown Minneapolis, the team announced today that the stadium's three-acre entry plaza will be anchored by a sculptural interpretation of a 2nd century Viking Ship. The Legacy Ship, designed by RipBang Studios, a member of Minneapolis based NWH, will be rendered in contemporary materials and incorporate theatrical lighting and effects that make it appear to emerge from the fog.
"From the dragon figurehead to a 54 foot tall, 2,000 square foot curving high-definition LED screen, the ship will be a focal point for Vikings fans. We hope this will inspire them to create new and enduring pregame rituals," said Bob Bangham, Creative Director of RipBang Studios.
The civic-scaled monument will provide year-round activity for all Minneapolis residents and visitors alike. It will feature and up to 12,000 individually inscribed bricks and gently sloping ramps and benches bordered by 5' diameter Viking shields. Under an archway of illuminated oars culminating in a 14 foot tall interactive dragon figurehead that comes to life with animated light and sound effects that react to game action.
"The Viking ship located outside the team's Winter Park training facility has always been a favorite stop for visiting Vikings fans," said Vikings Owner/President Mark Wilf. "We wanted to recreate the feature in a significantly enhanced way at U.S. Bank Stadium in order to give Vikings fans a new game day ritual and a perfect welcome to their unprecedented game experience."
The design team included members of NELSON, also an NWH Company – and sister-company to RipBang. "As a long-time resident of Minneapolis, I am honored that we are a part of this new monument for Vikings fans," said John "Ozzie" Nelson Jr, Chairman and CEO of NWH and its companies. "As you enter the new US Bank stadium, you will be greeted by the very symbol of our team. "
Design Team:
Bob Bangham, Creative Director
Rowena Macaraeg, Design Director
Carl Burdick, Lead Designer
Maury Blitz, Project Manager
Project Design Team: Alison Tsztoo, Kanak Patel, Crystal Adams, Cameron Horgan, Steve Golisano
Viking Ship Facts

The bow tops out at 43 feet above the corner of 6th and Chicago and features a 14 foot tall dragon "figurehead" that will come alive as it growl's, breathes smoke, and it's eyes glow.
The ship includes a 55 foot tall curved digital screen shaped as the Ship's Sail.
The ship is 160 feet long from bow to stern, with a 55 foot long front section emerging from the waves, represented by a black granite base.
The ship is more than three times the size of an historic Viking Ship
The ship will contain over 150' linear feet of displays including a team history timeline.
The ship will be highly interactive, and includes dynamic lighting and sounds.
ADA accessible ramps will lead to a viewing platform
12,000 individually inscribed granite pavers will be imbedded in the ships "floor"
8 internally illuminated 5' diameter shields will recognize significant contributors to the new stadium.
Social Media:
Twitter: @NELSON_online
Instagram: @NELSONworldwide
LinkedIn: https://www.linkedin.com/company/nelson?trk=company_logo
###
About RipBang Studios
RipBang Studios, an NWH Company, combines storytelling with architecture and artwork to create sculptural environments, entertaining experiences, and iconic signage. The firm is also responsible for the conception of Target Field's "Big Twins" sign. For more information, visit http://www.ripbangstudios.com
About NELSON
NELSON is part of a global architecture, design, engineering, and consulting services organization with Teammates in 28 locations around the world and strong experience in a broad range of industries. NELSON works with more than 20 percent of the companies in Fortune 100. NELSON's interior design practice is ranked in the top ten overall Interior Design "Design Giants", and in the top 5 Giants focused on workplace design. For more information, visit http://www.NELSONonline.com.
About NWH
NWH is the Minneapolis-based holding company of a trio of A/E/I brands dedicated to providing a full menu of professional services to corporations and institutions across the globe. With locations in major metropolitan areas throughout the US, the company employs nearly 600 professionals. NWH brands have the combined resources to deliver all of your design, engineering and consulting needs. For more information, visit http://www.nwh.global