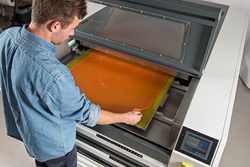 "Our new Flexo Centre provides an easier way for customers to learn more about our latest equipment, integrated systems and automated solutions," said Keld Thorsen, CEO at Glunz & Jensen. "
Denmark (PRWEB UK) 24 November 2015
Glunz & Jensen is pleased to announce the opening of a new Flexo Centre in Milan, Italy. The Centre has been established to reinforce and expand the company's position as the world's leading provider of state-of-the-art flexo products and solutions, and to help provide a more dedicated service to its global customer base.
The new Flexo Centre is home to a highly experienced team of R&D specialists that will further strengthen Glunz & Jensen's product development capabilities. The facility will also be used to showcase the company's latest innovations and as a location for customer support and training.
"Our new Flexo Centre provides an easier way for customers to learn more about our latest equipment, integrated systems and automated solutions – and to see how reliable and simple they are to use," said Keld Thorsen, CEO at Glunz & Jensen. "After more than 43 years in the industry, we know how to find innovative ways to meet our customers' needs, and our Flexo Centre is yet another example of what we are doing to help make their lives easier."
Amongst others, the Flexo Centre will feature two of Glunz & Jensen´s recent product developments: The Flex-in-One, a compact all-in-one unit for water wash flexo plates, and the FlexScanner that enables Trade Shops and Converters to take full control of product quality. The FlexScanner is the new state-of-the-art quality assurance for flexo sleeves and plates.
"The Flexo Centre will be instrumental in showcasing our innovation and product adaption for the flexo market," commented Jacques Dutard, General Manager at Glunz & Jensen. "We have invested heavily in product development over recent years, having listened closely to our customers' demands for carefree running products, and as a result we have many exciting new products lined up for Drupa next year. These include our water wash solutions, our innovative and successful inline FlexLine program, the cost-effective FlexScanner and our range of UV-LED and 2nd generation processors."
Glunz & Jensen invites you to find out more by visiting the new Flexo Centre at Glunz & Jensen S.p.A, Via Alessandro Volta, 28, 20088 Rosate (MI), Italy, when it opens on 1 December 2015.