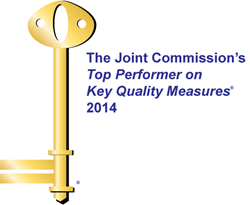 Zephyrhills, FL (PRWEB) November 20, 2015
Florida Hospital Zephyrhills announced today that it has been recognized as a 2014 Top Performer on Key Quality Measures® by The Joint Commission, the leading accreditor of health care organizations in the United States.
Florida Hospital Zephyrhills was recognized as part of the Joint Commission's 2015 annual report "America's Hospitals: Improving Quality and Safety," for attaining and sustaining excellence in accountability measure performance for heart attack, heart failure, immunization, pneumonia, stroke, surgical care and venous thromboembolism (VTE).
Florida Hospital Zephyrhills is one of only 1,043 hospitals out of more than 3,300 eligible hospitals in the United States to achieve the 2014 Top Performer distinction.
The Top Performer program recognizes hospitals for improving performance on evidence-based interventions that increase the chances of healthy outcomes for patients with certain conditions including heart attack, heart failure, pneumonia, surgical care, children's asthma, inpatient psychiatric services, stroke, venous thromboembolism, perinatal care, immunization, tobacco treatment and substance use.
This is the third consecutive year Florida Hospital Zephyrhills has been recognized as a Top Performer. The hospital was recognized in 2012 and 2013 for its performance on accountability measure data for heart attack, heart failure, pneumonia and surgical care.
For more information about the hospital's heart program or the Top Performer program, visit HeartExpertsPasco.com or jointcommission.org/accreditation/top_performers.aspx.
About Florida Hospital Zephyrhills
Florida Hospital Zephyrhills is a 139-bed regional medical center located in East Pasco County. It is a member of the Florida Hospital network of Adventist Health System, one of the largest health care providers in the state of Florida. Florida Hospital Zephyrhills has been nationally recognized by the American Heart Association, the American Stroke Association, The Joint Commission, and HealthGrades for excellence in providing top quality patient care with special emphasis on safety and patient outcomes. The award-winning Heart Program has received recognition in the treatment of coronary intervention, heart failure, chest pain, open heart surgery, and electrophysiology procedures. The hospital offers a full range of inpatient and outpatient surgical offerings, including orthopedic services such as hip and knee replacement and advanced MAKOplasty® robotic partial knee and total hip replacement. The Women's Health Center offers comprehensive services for women including gynecology, urology and pelvic floor health, labor and delivery through The Baby Place®, and breast care through the Simpson Breast Health Center. The hospital also offers 24/7 emergency services including a "fast track" option, imaging services and the Center for Wound Healing. Visit FHZeph.org for more information.