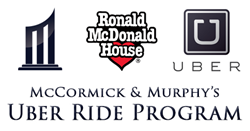 We're so appreciative of the effort that McCormick & Murphy has put into this program. The firm's generosity will mean one less stressor for our families and will make the holidays better for many of our folks! - Heather Brewer, House Assistant
Colorado Springs, Colorado (PRWEB) November 23, 2015
For the next six weeks, McCormick & Murphy will team up with Uber to offer free rides to families staying at the Ronald McDonald House of Southern Colorado.
Guests of the Ronald McDonald House, many of whom have traveled great distances to seek treatment for their children, can use these rides to get to and from the airport, or to simply get around town to shop, eat, see a movie, or grab a coffee; anything that helps them enjoy the holidays, despite dealing with such difficult circumstances.
Program Details
Families staying at the Ronald McDonald House will be able to take advantage of the program for six consecutive weeks, beginning Monday, November 23 (the week of Thanksgiving) and ending Sunday, January 3rd.
Each family will be entitled to $50 worth of Uber transportation during this period. Complete program details can be found here.
About the Ronald McDonald House of Southern Colorado
The Ronald McDonald House of Southern Colorado is a 'home-away-from-home' for families who have seriously ill children in the Southern Colorado area and are being treated at Memorial Hospital for Children or St Francis Medical Center.
For the families of these children, affordable accommodations are few and far between. Often they are limited to costly hotels or unforgiving hospital chairs. The idea behind the house is quite simple… to provide a comfortable and affordable setting to help these families shoulder the burdens associated with a child being treated at the nearby hospitals.
About McCormick & Murphy
McCormick & Murphy, P.C. is a personal injury law firm in Colorado Springs. Since 1995 the firm has represented the interests of injured Coloradans. The firm is headquartered in Colorado Springs.
McCormick & Murphy, P.C.
929 W Colorado Ave
Colorado Springs, CO 80905
(719) 389-1466