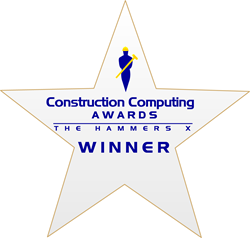 Nathan Doughty Asite COO said, 'With the onset of the UK Governments' BIM Level 2 mandate for April 2016 we are truly honoured to receive these awards that clearly indicate that the Adoddle platform is streaks ahead of its competitors
London, UK (PRWEB UK) 23 November 2015
Asite's revolutionary cloud platform Adoddle, is selected as Product of the Year for the second year running. This was bolstered with Cloud based technology of the year 2015, at an award ceremony hosted by the Construction Computing Awards in London last week.
Affectionately known as "The Hammers" and now in their 10th year, the Construction Computing Awards showcase and reward the technology, tools, solutions and highlights the leaders of technology in the AEC industry.
The Asite sponsored champagne reception was well received including a very special guest appearance from Adoddle. The Ateam were out in force to collect their two awards onstage during their double win.
Speaking on Asite's double win Chief Operations Officer Nathan Doughty said, 'With the onset of the UK Governments' BIM Level 2 mandate for April 2016 we are truly honoured to receive these awards that clearly indicate that the Adoddle platform is streaks ahead of its competitors.' Nathan has been delivering cloud solutions for the AEC industry for 18 years. He spent 6 years on the board of BuildingSMART, and was closely involved in the development of the IFC standard – helping to enable BIM systems interoperability. Nathan was part of the British Standards Institute working group which developed the British Standards for Collaborative BIM - BS1192 and PAS1192, and co-founded the Build Earth Live series of global Collaborative BIM events in 2008. He joined Asite as CTO in 2002 and led the initial development of the Asite platform before taking the COO role in 2006
The Adoddle platform is a mature and full-featured information management system which is designed to handle a wide range of content from intelligent forms to multimedia supplier catalogues running into the millions of line items, video, complex BIM and product models, and files of all types. Adoddle gives everyone involved in construction projects access to key information online. It allows for increased collaboration, fewer mistakes, reduced rework, and time and cost savings.
The Adoddle platform allows firms to store and manage all project data in one central and secure repository. It also enables customers to fully customize the structure of their content with highly controlled access and rich configurable workflows to allow project controls. The Adoddle platform is used by leading architecture, engineering and construction firms, as well as property owners worldwide to manage their largest and most demanding capital investment programs. Adoddle allows you to store all of your content in one central, secure repository and enables customers to fully customize the structure of their content with highly controlled access.
For more information http://www.asite.com