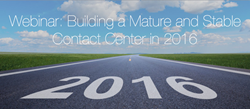 All the recent changes to TCPA regulations makes it more important than ever to build a stable and reliable contact center
Boulder, Colo. (PRWEB) November 24, 2015
Connect First will host a webinar, Wednesday, Dec. 9, titled "Building a Mature and Stable Contact Center in 2016". Panelists weighing in on best practices will include Ryan Thurman of Contact Center Compliance, Steve Bederman of Connect First, Christa Heibel of CH Consulting Group, and Dominic Leide of The Office Gurus.
The topics will highlight the customer-driven demand for a platform that provides stable and reliable products and services to the contact center industry. Topics will include:
-The maturity of the cloud contact center industry
-How to create stability and up-time in your contact center
-Compliance issues that are going to arise in 2016
"All the recent changes to TCPA regulations makes it more important than ever to build a stable and reliable contact center," said Bederman. "This webinar will show you exactly how to do that in an efficient and intelligent way."
For more information on the webinar, and to sign up, please follow this link.
About Connect First: Connect First is an award-winning SaaS telecommunications and cloud contact center software provider that focuses on customer satisfaction and elegant hosted solutions. Connect First offers a robust platform, designed and supported by a team of highly experienced engineers, designers and business analysts, and backed with personalized in-house customer care. Solutions include Cloud Routing, Inbound ACD, Outbound Dialing, Call Tracking, Interactive Voice Response (IVR), Voice Broadcast, Disaster Recovery, Predictive Dialer, Real-Time Telemetry, CDR Reporting, and more. Through a consultative approach with each customer interaction, Connect First builds customized solutions to meet the needs of a discerning customer base. Visit http://www.connectfirst.com for more information or a free consultation with a contact center solutions expert.
About Contact Center Compliance: Contact Center Compliance is an experienced cloud based compliance provider that reduces the complexity of TCPA Wireless and Federal and State Do Not Call (DNC) regulations. DNC.com provides several unique compliance solutions including: DNC and TCPA Wireless scrubbing, known Litigator database and VoIP Scrubbing, Compliance Guidance, Compliance Training, as well as data appending. Learn why leading companies trust DNC.com to manage their liability.