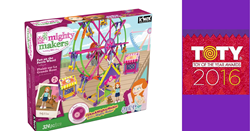 K'NEX President and CEO, Micahel Araten, said, "Designed by women to inspire and empower young girls, the STEM themed Fun on the Ferris Wheel set is exciting to build and encourages learning. It is a natural fit in the educational category!"
Hatfield, PA (PRWEB) November 25, 2015
K'NEX Brands, the only U.S. construction toy company focused on Building Worlds Kids Love®, is thrilled to announce that its Mighty Makers Fun on the Ferris Wheel Building Set has been nominated by the Toy Industry Association for a TOTY (Toy of the Year Awards) in the Educational Category.
The Toy of the Year Awards, also known as the "Oscars" of the toy industry, is the premier toy awards program. Finalists have been nominated from within the industry and are being voted on by toy companies, toy retailers, and consumers.
"We are honored that Mighty Makers was chosen from the over 700 TOTY submissions," said K'NEX President and CEO, Michael Araten. "K'NEX was founded on the principles of encouraging kids to imagine, build, play and learn. The innovative Mighty Makers line continues that legacy. Designed by women to inspire and empower young girls, the STEM themed Fun on the Ferris Wheel set is exciting to build and encourages learning. It is a natural fit in the educational category!"
Fun on the Ferris Wheel Building Set
Ride all the rides with Emily and her bear, Cocoa, with the Mighty Makers Fun on the Ferris Wheel Building Set. Help Emily build her own amusement park with a Ferris Wheel, Pirate Ship ride, and boardwalk game. Set includes 324 K'NEX® parts and pieces, 2 figures -- Emily and Cocoa --, Ferris Wheel seats, star snaps, and more! Also features full color building instructions with ideas for three different mechanical engineering themed builds, and an exploration card which challenges builders to explore additional mechanical engineering concepts. All K'NEX rods and connectors are made in the USA. Suggested retail price is $34.99. Ages 7+. Available now on knex.com and at toy retailers nationwide.
Voting is open until January 17, 2016. Log on http://www.toyawards.org/toyaward/custom/EducationalToy.aspx to vote. Voters will be entered into a raffle to win a toy prize pack from the Toy Industry Association. The winners will be announced during a celebration in New York on February 12th.
About K'NEX Brands
Founded in 1992, K'NEX Brands, the world's most innovative construction toy company, was established to make and sell what has become one of the world's leading integrated construction systems for children, and is America's STEM building solution. Winner of over 250 international awards and recognitions, K'NEX is focused on Building Worlds Kids Love® and encourages youngsters to "imagine, build and play." From the living room to the classroom, K'NEX has building toys specially designed for every age group and skill level. The K'NEX family of brands includes K'NEX Building Sets, K'NEX Thrill Rides, K'NEX Education®, Lincoln Logs®, Tinkertoy®, K-FORCE Build and Blast™, Beasts Alive®, Mighty Makers®, Mario Kart Wii™, Mario Kart 7™, Mario Kart 8™, Super Mario™, PacMan™, Titanfall™, Family Guy™, Plants vs. Zombies™, and more. Since 1992, The Rodon Group®, a subsidiary of K'NEX Brands, L.P., has manufactured over 34 billion parts for the K'NEX building toy system. Join us as we help build the leaders of tomorrow. For more information, please visit http://www.knex.com or http://www.rodongroup.com.
###