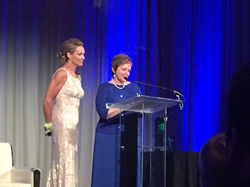 Walsh College is an exceptional institution.. We are privileged to have a strong relationship with the college, they are a tremendous resource. I am very humbled by this honor. - Lori Blaker
Rochester Hills. MI (PRWEB) November 30, 2015
The Leadership Awards are the highest awards given by Walsh College. Each year four exceptional people who make extraordinary contributions every day to their firms, to the community, and to Walsh College are honored. "Through their example," stated Stephanie Bergeron, president and CEO, Walsh College, "They inspire excellence and bring energy to important initiatives in the southeast Michigan community and beyond."
Blaker was honored for her outstanding leadership of TTi Global, a provider of business performance solutions. TTi Global is one of the top 25 woman-run businesses in the U.S. as recognized by the Women's Business Enterprise National. Blaker was also recognized for her dedicated service to the community, including her role in organizing the event "Not in My Backyard: Conquering Human Trafficking in Michigan" which was held at Walsh College in April.
"Walsh College is an exceptional institution. They are committed to excellence and continuous improvements at every level," stated Blaker. "We are privileged to have a strong relationship with the college, they are a tremendous resource. I am very humbled by this honor."
Other recipients of awards included William F. Jones, Jr., CEO, Focus:HOPE Detroit, recipients of the Jeffery W. Barry Award for Educational Excellence and Community Service. Rebecca Sorensen, senior vice president, wealth management and institutional consultant, UBS Financial Services, recipient of the Walsh College Distinguished Alumna Award and Brian Pilarski, sales leader, Brown & Brown of Detroit, recipient of the Walsh College Distinguished Graduate of the Last Decade Award.
About Walsh College
Founded in 1922, Walsh College is an all-business, private, independent, not-for-profit, fully accredited college. It offers 19 undergraduate and graduate business and technology degrees, as well as certificate programs. Walsh degree programs include accounting, finance, information technology, management and leadership, marketing, taxation, and other fields.
One of the region's largest business schools and one of Michigan's top three graduate business schools, Walsh has locations in Troy, Novi, Clinton Township, and Port Huron, as well as online.
About TTI Global
TTi Global provides staffing, learning, research and consulting solutions to industries across various sectors with automotive as a core focus. TTi Global oversees operations on five continents with offices spanning the globe, which include Australia, Brazil, Canada, Chile, China, India, Japan, Mexico, Peru, South Africa, Thailand, Venezuela, UK and most recently Afghanistan.
With a staff of over 2000 employees in international operations, they offer a wide range of services, tailor made to drive business goals, including business consulting, research, staffing, workforce development and learning solutions. TTi Global world headquarters are located in Rochester Hills, Michigan.