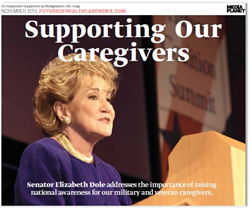 My eyes were first opened to the challenges faced by our nation's military and veteran caregivers when my husband Bob was hospitalized at Walter Reed National Military Medical Center for 11 months
(PRWEB) November 27, 2015
The rapid speed at which Americans are aging is directly affecting the health care in America. As people age, more care is needed, especially with Alzheimer's, dementia and other cognitive conditions becoming more prevalent. Health care costs are rising, and medical professionals are being overworked. The forgotten part of this equation: 80 percent of medical care occurs in the home, by unpaid family members.
Former United States Senator, Elizabeth Dole, graces the cover of the print publication. Through an exclusive interview with Mediaplanet, she addresses the importance of raising national awareness for our military and veteran caregivers. "My eyes were first opened to the challenges faced by our nation's military and veteran caregivers when my husband Bob was hospitalized at Walter Reed National Military Medical Center for 11 months," she explains. "During my many days around the hospital, I visited with the young spouses, mothers, fathers and other loved ones quietly looking after our wounded warriors. The strength of these caregivers was incredible, yet their faces showed they carried an emotional weight so heavy that it was hardly bearable."
The print component of "Supporting Our Caregivers" is distributed within the November 27 edition of USA Today, in Atlanta, Dallas, New York, Minneapolis and South Florida, with a circulation of approximately 250,000 copies and an estimated readership of 750,000. The digital component is distributed nationally, through a vast social media strategy, and across a network of top news sites and partner media outlets. To explore the digital version of the campaign,click here.
This edition of "Supporting Our Caregivers" was made possible with the support of Senator Elizabeth Dole, Seth Rogen and Lauren Miller-Rogen, Hilarity for Charity, Caregiver Action Network (CAN), Caregiver.com, Caregiving Club, Alzheimer's Association, National Hospice and Palliative Care Organization (NHPCO), Sunrise Senior Living, The BrightFocus Foundation, Hope For The Warriors, Rocky Mountain Alzheimer's Disease Center, CapTel, MediciGlobal and many more.
About Mediaplanet
Mediaplanet is the leading independent publisher of content-marketing campaigns covering a variety of topics and industries. We turn consumer interest into action by providing readers with motivational editorial, pairing it with relevant advertisers, and distributing it within top newspapers and online platforms around the world.
Press Contact:
Chad Bernstein
chad.bernstein(at)mediaplanet.com
646-755-7950