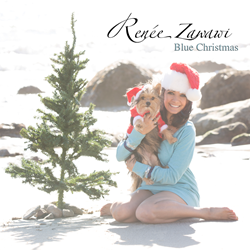 Renee Zawawi's unique vocal recording of Elvis' classic "Blue Christmas" produced by Grammy award winning Tom Weir
New York, New York (PRWEB) December 01, 2015
Rene Zawawi, founder of Pop Star Photography, has released a unique version of "Blue Christmas." Her rendition of the classic Elvis song utilizes her sultry vocals and artistic vision to create breezy, warm, and inviting new single in time for the holiday season. The new single is now available on cdbaby and iTunes.
Following the success of her previous album Legends, Zawawi was inspired to debut a new holiday single that featured her vocals, elegance, playfulness, vision. "Blue Christmas" features all-star musicians Tim Pierce (guitar, Michael Jackson, Bruce Springsteen, Rod Stewart), Michelle Parnell (keyboard, Meredith Brooks, Brian Setzer), Matt Laug (drums, Alanis Morisette, Slash), Jeff Babko (rhodes, Hammond B3, Jimmy Kimmel, James Taylor), and Rafeal Padilla (percussion, Gloria Estefan, Celine Dion, Michael Buble). The recording was produced by Grammy award winning Tom Weir and arranged by Michael Parnell.
For more information about Zawawi, please go to http://www.popstarphotography.com. "Blue Christmas," is now available for purchase on iTunes, and cdbaby.
About Renee Zawawi
Renee Zawawi, also known as Renee Sharif, is a Pop Art artist and Food Photographer. She graduated from Arcadia University with a Bachelor of Fine Arts in visual and performing arts. She also studied Visual Journalism at Brooks Institute. Her "Happy Hour" project called, "the 2020's Pop Art Movement," was part of her plan to bring something new to the world of pop music. Her demo album Legends showcases her unique American pop sound. For more information, please go to: http://www.popstarphotography.com.
About Pop Star Photography
Founded by Renee Zawawi, Pop Star Photography consists of mainly food and food related photography. The studio was founded in early 2000 and also produce fashion and album cover photography, music video production, documentary, reality, and behind the scenes videos. For more information, please go to: popstarphotograph.com.