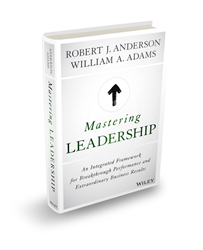 We consider this book spiritual boot camp for leaders. In it, we radically shift our understanding of extraordinary leadership and how to champion its development.
Salt Lake City, Utah (PRWEB) November 30, 2015
Mastering uncommon leadership—a timeless, in-depth approach without 'quick fixes'—is the focus of a new book out by leadership experts Robert Anderson and William Adams (Chairman and CEO respectively of The Leadership Circle and The Full Circle Group.
Too many business leadership books offer quick fixes and overly simplistic ways of becoming a better leader, using methods that are too often superficial and partial. These approaches are ineffective because they don't reach deep enough into the person or far enough into the organization to make a real change—one that is profound, systemic and strategic.
This book introduces something very new into the business leadership space. "Mastering Leadership's" Universal Model of Leadership is the first to offer a comprehensive, transformational model that integrates decades of the best practice, theory, and research in the fields of leadership, organizational development and psychology to yield a profound, pioneering framework that is accessible to anyone who want to make leadership, individual and collective, a competitive advantage.
Since 2001 more than 66,000 leaders and 3,000 organizations have taken the Leadership Circle Profile 360 assessment. Because this assessment is base on such a new and thoroughly integrative Universal Model, if offers a unique lens through which to understand what makes for extraordinary leadership and how to accelerate its development.
Also included in the book are:

Research revealing the strong connection between increased leadership effectiveness and enhanced business performance;
Groundbreaking research showing a strong relationship between Stage of Leadership (the level of development/maturity of a leader's inner game) and the level of leadership effectiveness (the outer game);
The Leadership Circle Profile, a unique assessment, model, and pathway of development;
Case stories revealing how to apply the Universal Model within a complete Leadership Development System for enhancing collective leadership effectiveness and for achieving dramatic shifts in business performance.
Anderson and Adams said of their latest work, "We consider this book spiritual boot camp for leaders. In it, we radically shift our understanding of extraordinary leadership and how to champion its development."
Praise for "Mastering Leadership" has been bountiful:
Marshall Goldsmith, author of New York Times #1 Best Seller "Triggers," said, "This is the definitive book on leadership principles and practices! Expansive and practical at the same time, it is for forward-thinking leaders who want the most essential leadership lessons analyzed and presented in one astute place. Anderson and Adams' Universal Model synthesizes everything that leadership theory thus far has to offer."
John Mendel, Executive Vice President at American Honda, said: "…this book turns theory into practice by framing great leadership as a purposeful pursuit rather than a genetic anomaly. It also provides the practical knowledge and tools to enable a transition to greater effectiveness."
For more information about the book, and to download a sample chapter, visit masteringleadershipbook.com.
###
About the Authors
Bob Anderson is the founder and Chairman of The Leadership Circle and co-founder and Chairman of the Full Circle Group. Throughout his career, Bob has worked with various CEOs and their leadership teams to assist them in improving the effectiveness of their leadership skills. Bob and his wife, Kim, live in Toledo, Ohio.
Bill Adams is the co-founder and CEO of the Full Circle Group, and also serves as CEO for The Leadership Circle. Bill and his wife, Cindy, live in Utah, where they enjoy spending time with their four children.
"Mastering Leadership: An Integrated Framework for Breakthrough Performance and Extraordinary Business Results"
By Robert J. Anderson and William A. Adams
Wiley
Hardcover $30; 336 pages
978-1119147190