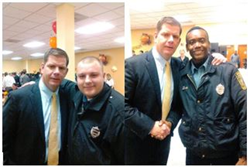 ATLANTA, Georgia (PRWEB) November 26, 2015
U.S. Security Associates (USA) is helping people in need enjoy the comfort of a good meal this Thanksgiving. On Monday, the Boston branch office of the security company donated more than 250 turkeys to the residents of Mission Main Apartments, New Academy Estates, and Theroch Apartments. All three residential communities serve families of low and moderate income.
The Boston office also continued its tradition of co-sponsoring the annual Senior Thanksgiving Dinner held by Mission Main Management and the Mission Main Task Force. This year, the Senior Thanksgiving Dinner was held at Mission Main on Friday, November 20. U.S. Security Associates donated cake, decorations, and spiral hams personally baked by Boston Director of Operations, Aury Maldonado. USA security officers were on hand at the dinner to help serve the 250 residents in attendance. Special Police Officers Jean Claude Pierre and Joseph Fee III had the opportunity to pose for pictures with Boston Mayor Martin J. Walsh, who was among the dinner guests.
Patrick Hagan, USA's Northern Region Business Development Manager, also attended the dinner. "We love helping to make the Senior Thanksgiving Dinner a success," says Hagan, "and delivering all those turkeys every year is one of the highlights of the holiday for all of us in the Boston office. It's a good reminder of how much we have to be thankful for."
In Connecticut, the USA security team at Norwalk Hospital has also made a difference this Thanksgiving for community members in need. The security team has conducted a drive to raise funds for the Connecticut Food Bank and has also been collecting non-perishable foods for the nursing department's food drive.
At the White Plains office of U.S. Security Associates, employees are collecting food donations to benefit Lifting Up Westchester, an organization that provides housing and feeding services for less fortunate members of the Westchester community. Through Lifting Up Westchester, Grace Church of White Plains helps to run shelters, a soup kitchen, and other outreaches.
With December quickly approaching, U.S. Security Associates employees in offices nationwide are already looking ahead to the holidays and making plans to support other worthy causes in the communities they serve.
ABOUT U.S. SECURITY ASSOCIATES
U.S. Security Associates (USA) is North America's security solutions leader, with locally-responsive offices providing premier national security services and global consulting and investigations. The company provides career paths for over 49,000 security professionals serving several thousand clients and a range of industries. Innovative applications of leading-edge, proprietary technology enable USA to rank annually among the world's best training companies, sustain the highest standards of quality, and underscore world-class customer service with unparalleled accountability. USA's rise as one of today's largest security companies is a natural byproduct of these differentiators together with a commitment to investing in employee reward and development, giving back to local communities and relentlessly striving to be a security company that is Safe.Secure.Friendly.SM. For more information, visit http://www.ussecurityassociates.com.
###