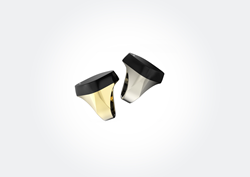 In just one week since launching neyya to the world, we have been overwhelmed by the response we've received
San Francisco and London (PRWEB UK) 26 November 2015
Following a successful online launch last week and orders already exceeding expectations, the neyya smart ring officially goes on sale in Selfridges, Brookstone's, Bloomingdales and Amazon today. neyya is a digital companion combining form, fashion and function and designed to give users the freedom to control connected devices without having to look at them.
The neyya ring has a smart surface, and by using the familiar tap and swipe gestures users can seamlessly control presentations, music playlists and cameras. neyya also alerts users to incoming phone calls, text messages and daily reminders. In addition to laptop and mobile phone control, out-of-the-box neyya also works with GoPro, Philips Hue lighting and Roku, and the SDK, made available at myneyya.com for both Android and iOS, opens the possibilities for neyya to be used for much more.
Sonia Hunt, president of neyya commented: "In just one week since launching neyya to the world, we have been overwhelmed by the response we've received. Developers are already working on new and exciting ways to work with our neyya SDK, and we can't wait to see what they come up with.
"This week marks a very special moment in neyya's journey – the short time from ideation to product launch and then immediately being available for purchase in high profile retailers is proof that we have created a product that retailers know will appeal to their discerning customers. And we hope to share more retail partner announcements in the near future."
neyya was conceived in the Startup Village in Kochi, India. In 2014 the first neyya ring prototype was presented at TechCrunch's Hardware Battlefield during CES. neyya subsequently was incubated in San Francisco, while expanding its India software team. It continues to be head-quartered in San Francisco and manufacturing is taking place in Japan.
The neyya smart ring is available in titanium (£129) and gold (£159) models.
About neyya
neyya strives to create interactive products that engineer a conscious shift in the way we interact and live. Conceived in India, brought to life in Silicon Valley, and manufactured in Japan, neyya came to life from the latest brilliant young minds in India's burgeoning startup ecosystem. Their ingenuity was quickly recognised by Silicon Valley investors who incubated the young team to help realise their vision. For more information on neyya and the neyya smart ring please visit http://www.myneyya.com.
For more information please contact Nicola Gibb nicgibb(at)me(dot)com