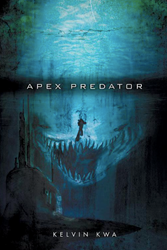 I have a passion for a good story, and an epic story is best when shared
MELBOURNE, Australia (PRWEB) December 02, 2015
Author Kelvin Kwa introduces Mother Nature's colossal weapon in new book.
After years of environmental destruction from warfare and exploitation of limited resources, melting icecaps are hardly humanity's problem after military expeditions awaken a sleeping giant.
"Apex Predator" by Kelvin Kwa is equal parts military techno-thriller and science fiction horror. Set in the very near future, the story follows the officers and crew of a United States nuclear submarine, a highly trained splinter unit of Navy SEALs, a Chinese Special Forces commander and a rogue freelance intelligence agent as they are entangled in a sinister covert operation that will see them hunted and betrayed by friend, enemy and monster alike.
"All of the things I have experienced contribute towards knowledge and imagination that I apply to my writing. I have a passion for a good story, and an epic story is best when shared," Kwa said.
Though the book touches on issues such as technology, climate change, LGBT in military service and scientific ethics, it's first and foremost a thriller written for entertainment purposes. "Apex Predator" is the book that Kwa wanted to write after spending a lifetime invested in film, novels, comics and video games.
"Coming from a traditional Chinese Malaysian family, such frivolous pursuits in imagination were frowned upon. Being the dutiful son, I acquiesced to things more practical. But I never let the dream die," Kwa said. "My point is this: I am just another man on the street. The difference is that I dared to believe that I could be more."
For more information, visit http://www.kelvinkwa.com
"Apex Predator"
By Kelvin Kwa
ISBN: 978-1-49902-442-5
Available in e-book
Available on Amazon, Barnes & Noble and Xlibris
About the author
Kelvin Kwa is a Microsoft certified professional with a diploma in computing and applied physics. His love of technology, mythology and fantasy has led to years of collecting and reading. Kwa is a husband and a father living near Melbourne, Australia. "Apex Predator" is his first book.
# # #
For review copies or interview requests, contact:
Jake Doll
317.602.7137
jdoll(at)bohlsengroup(dot)com