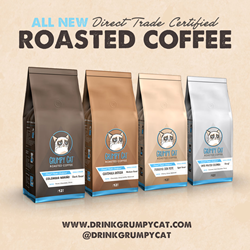 Los Angeles, CA (PRWEB) December 03, 2015
Grumpy Beverage extends its product line to include Grumpy Cat Roasted Coffee, building on the popularity of its ready-to-drink coffee latte, Grumpy Cat Grumppuccino. Nick Sandford, Co-Founder, Grumpy Beverage, will oversee the roasted coffee extension, which includes four Direct Trade varieties available now on the company website (http://www.drinkgrumpycat.com).
Grumpy Beverage's first coffee product, Grumpy Cat Grumppuccino, went viral immediately following its release, being seen by over 20 million people in 40 countries around the world.
"From the beginning, we have cultivated a coffee experience of the often mutually exclusive virtues of impeccable quality and light-hearted humor," said Sandford. "The development of a roasted coffee line extension was the next logical step in building on the success of Grumppuccino."
The new roasted coffees are specialty grade, artisan roasted, and sourced in Direct Trade with farmers from around the world. Direct Trade helps to guarantee sustainable farming, supports community development, and encourages the cultivation of the highest quality coffee possible.
"There is a glaring void in the market for a less supercilious and more relatable coffee brand," said Sandford. "The brand experience we present with Grumpy Cat Coffee will undoubtedly invite consumers to give our products a try, but the impeccable quality is what will bring them back."
Grumpy Cat Roasted Coffee's are available now.