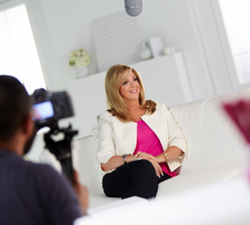 "I'm honored to partner with Rising Tide Capital to help many first-time entrepreneurs and single mothers use their creativity and talents to build businesses that transform their lives and the lives of those around them!"
Jersey City, NJ (PRWEB) December 02, 2015
Rising Tide Capital (RTC), a nonprofit organization dedicated to transforming lives and communities through entrepreneurship, will partner with The Joy Mangano Foundation to raise awareness and empower entrepreneurs working to start and grow successful businesses and live their American Dream. The partnership will build on RTC's decade of work in training and supporting entrepreneurs to launch and grow their businesses. Joy Mangano, one of today's most-successful product inventors, brings years of knowledge and experience to support the growth of Rising Tide Capital.
"No matter how far I come, I still need to work to overcome fear and doubt with hope and optimism, each and every day. The Joy Mangano Foundation was created to empower others to replace fear with hope so they can start building their own American Dream," said Mangano. "I'm honored to partner with Rising Tide Capital to help many first-time entrepreneurs and single mothers use their creativity and talents to build businesses that transform their lives and the lives of those around them!"
Rising Tide Capital provides full scholarships for their entrepreneurs to attend their nationally-recognized business management training curriculum, and they provide ongoing support as their entrepreneurs turn their dreams from idea to reality. So far, Rising Tide Capital has worked with over 1,200 budding entrepreneurs.
"The typical Rising Tide entrepreneur is a single mother of two, so Joy's journey as a talented, passionate and entrepreneurial woman really could be the story of any of our Rising Tide Entrepreneurs," said Alfa Demmellash, CEO and cofounder of Rising Tide Capital.
"What's more, Joy's desire to partner with us on this mission is reflective of what we see in action from our own entrepreneurs. When an entrepreneur succeeds in business, she not only uplifts her family but often turns around to give back to her community and lead by example on the issues that demand our focus and resources. In this partnership, we have the opportunity to raise awareness of the grit, determination and enormous potential of local entrepreneurs to start the kinds of businesses that can uplift our neighborhoods, hire more people into good local jobs, and build a new, thriving economy," she added.
To learn more and support Rising Tide, please visit http://www.RisingTideCapital.org/Donate. To learn more about The Joy Mangano Foundation, please visit http://www.joymangano.com/foundation.
Follow along on Twitter: @RisingTideOrg and @JoyMangano
About Rising Tide Capital
Headquartered in Jersey City, Rising Tide Capital, Inc. is a 501(c)(3) non-profit organization founded with the mission to empower entrepreneurs to create and grow small businesses which transform lives and communities. The organization's vision is to build a replicable model for high-quality entrepreneurial development services that can be adopted locally in other low-income communities. Learn more at http://www.RisingTideCapital.org.