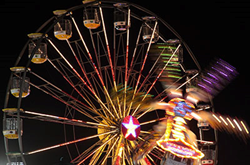 (PRWEB) December 02, 2015
"Amusement parks can be a fun place to spend quality time with family and friends, but they also represent someone's dreams of financial success" said Joseph Ferriolo, the director of Wise Business Plans. "At Wise, our goal is to guide independent businesses like theme parks and family entertainment venues toward increased profits and sustained future earnings."
A Wise custom-crafted business plan is tailor-made to showcase startup or expansion concepts for entertainment parks as owners work to acquire funding from investors.
"Riding the fast roller coasters and other attractions makes for a spontaneous and exciting day, but a well-managed, smoothly running business that doesn't have a lot of ups and downs takes proper planning, and that's what Wise Business Plans is all about," said Ferriolo.
Wise Business Plans (http://www.wisebusinessplans.com), staffed with professional MBA writers, researchers and financial experts, is a trusted partner for businesses across a broad spectrum of products and services. Our mission is to empower our clients to make the best possible business decisions, boost company performance and facilitate their funding success by laying the groundwork for strong businesses that excite, inspire and retain talented and exceptional employees.