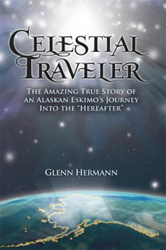 ... a 21st-century wake-up call from heaven – to be ready for Christ's imminent return
Anchorage, AK (PRWEB) December 03, 2015
Within the pages of Glenn Hermann's new book, Celestial Traveler - The Amazing True Story of an Alaskan Eskimo's Journey into the "Hereafter", ($14.99, paperback, 9781498458405), readers will be taken on a journey to places terrestrial and celestial. The terrestrial journey begins in a small Yup'ik Eskimo village in Alaska where readers will meet rough-cut Eskimo, Abraham "Ipli" George. For 20 years, he held the reputation of being the "town drunk." In 2005, while on a routine wood-gathering trip on his snowmobile, Ipli had a fatal accident.
En route to the hospital, he was stunned when he realized that the lifeless body that the EMT's were scrambling to revive was HIS! Suddenly, a dazzling unearthly being, brighter than the sun, materialized before his eyes. At that moment, Abraham was instantly transported on a journey to three celestial destinations: heaven, outer darkness, and hell. Hermann shares Abraham's astonishing report of what he saw, heard, smelled and felt. Abraham returned to his body – transformed, bearing a heavenly message with heavenly powers to confirm it.
"It is a 21st-century wake-up call from heaven – to be ready for Christ's imminent return," states the author.
The book is a portal into the afterlife with spectacular graphic details of heaven and hell. In the second half of the book, Hermann, a seasoned apologist, sets forth a convincing argument based on many powerful evidences, proving Abraham's experience as genuine.
Glenn Hermann has been a Christian leader for 40 years. He holds a Bachelor's degree in biblical studies and a Master's degree in apologetics – as well as a lifetime of studying and teaching apologetics internationally. He and his family live in Anchorage where he manages his successful landscape company. He loves Alaska and is a passionate outdoorsman and sportsman. Glenn felt compelled to write this book as a result of becoming convinced by the facts discovered in his investigation that Abraham's story was true and embodied a message of paramount importance to mankind. Hermann stated that writing this book has been the grandest and most demanding project of his 68 years, drawing upon every bit of his talent, training, and experience.
Xulon Press, a division of Salem Media Group, is the world's largest Christian self-publisher, with more than 15,000 titles published to date. Retailers may order Celestial Traveler - The Amazing True Story of an Alaskan Eskimo's Journey into the "Hereafter" through Ingram Book Company and/or Spring Arbor Book Distributors. The book is available online through xulonpress.com/bookstore, amazon.com, and barnesandnoble.com.
Media Contact: Glenn Hermann
Email: info(at)CelestialTraveler(dot)org
Website: http://www.CelestialTraveler.org