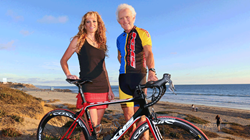 Denise has extraordinary power, the highest wattage I've seen from a female.
San Diego, CA (PRWEB) December 07, 2015
Project Speed is one woman's story of athletic empowerment. In the Fall of 2016, Denise Mueller will be the first woman in cycling history to attempt a paced bicycle land speed record on the Bonneville Salt Flats. Denise Mueller has an inner drive "To Be Fastest!" and she will be the first woman ever to attempt this incredible feat. She describes the moment when the concept of being the first woman to set a Land Speed Record on a bicycle was presented as an epiphany similar to the explosiveness of "a match being thrown on gasoline." There was no looking back.
Since 1899, motor pacing records have had a long tradition in elite cycling. However, exclusively men have accomplished them. Fewer than a dozen have tried, and some have ended in near disaster. Fred Rompelberg set the current paced record of 167 mph behind a modified race car in Bonneville, UT. He nearly died in the attempt, and needed three years to recover after initially crashing on the salt at over 140 mph.
Mueller, a 2014 and 2015 USA Cycling national champion is coached by 3 time Olympic racer and cycling Hall of Famer John Howard. Howard set the world record of 152 mph in 1985 at Bonneville. In addition to being Mueller's coach, he's also her biggest supporter. "Denise has extraordinary power, the highest wattage I've seen from a female. She is also an amazing bike handler, having made the podium at the worlds in downhill mountain bike racing."
The goal is to get Mueller to beat her coach John Howard's record by reaching 153 mph. Passion, precision and persistence will all be required to set Denise up for a wildly successful ride across the salt flats. With a best in class team on her side, Denise is poised to take the salt by storm in September, 2016.
An Indiegogo campaign, which was recently and which will run through December 26, will help cover some of the large costs this effort entails including a modified pace car, custom bicycle, protective speed suit, training, travel, etc. Fantastic rewards are available. Please support the campaign by visiting http://igg.me/at/projectspeed/x/12658453
For more information about this project, or to schedule an interview with Denise Mueller or John Howard, please contact Megan Bulsara at bulsaramegan(at)gmail.com or 619-518-0537