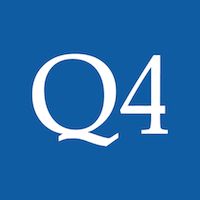 Toronto, Ontario (PRWEB) December 03, 2015
Q4 Web Systems Inc. (Q4), a Software as a Service (SaaS) platform that provides communication and intelligence solutions for Investor Relations (IR) professionals, announced today the release of an upgraded version of their Q4 Online Report platform, originally released in February of 2015. The upgraded Q4 Online Report platform allows IR departments to take key information from their print/static corporate report, and create a new, responsive mini-site for their online viewers.
Earlier this month, the National Investor Relations Institute (NIRI) released its 2015 Annual Report Study, indicating that 21% of public companies are now producing some kind of interactive, HTML-based version of their annual reports. Q4 Online Reports make it easier than ever for companies to convert their standard annual reports into striking, dynamic online experiences for their investors.
Q4 Online Reports are responsive mini-sites, ensuring that no matter what device is being used, the core experience of the report remains intact. The platform also allows for the addition of infographics, videos and other rich media to enhance any report's content and metrics. The flexible template makes it easy for any corporate report to be turned into a Q4 Online Report.
"We're excited for the opportunity to work with today's leading companies and help them better interact with their investors online," said Darrell Heaps, Founder & CEO of Q4. "With its dynamic features and responsive design, companies will be able use the Q4 Online Report platform to deliver a compelling, story-based experience to their investors."
Q4 Online Reports are available today. To see a live example in action and learn more about the features and benefits of the Q4 Online Report, visit http://www.q4reports.com
—END—
About Q4 Web Systems Inc (Q4).
Q4 is a SaaS platform that provides advanced communication and quantitative intelligence solutions to investor relations officers and the c-­suite of public companies. Hundreds of global companies and brands such as Nike, Salesforce, FedEx and McDonald's use Q4's website, mobile, webcasting and intelligence platform to manage, analyze and improve their engagement with the capital markets. http://www.q4inc.com
Media Inquiries
John Schoeler
johns(at)q4inc(dot)com
Telephone: 416-626-7829 ext. 238