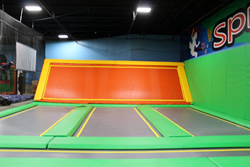 "Our first IPC store opened here in 2002. We are excited to be able to invest and continue to bring these attractions into our community for all to enjoy."
Springfield, MO (PRWEB) December 04, 2015
Springfield Incredible Pizza Company (IPC) is officially opening their trampoline park on Thursday, December 3rd at 4 p.m. IPC has spent over $1,000,000 on a 10,000 square feet addition. This addition includes a thrill seeking trampoline park, new road coarse go-kart track, complete remodel of the laser tag arena and brand new Lost in Space ride.
The IPC located in Tulsa has a trampoline park, since November of 2013, and the company is excited to continue this trend. Rick Barsness, CEO and founder of IPC, stated, "Our first IPC store opened here in 2002. We are excited to be able to invest and continue to bring these attractions into our community for all to enjoy."
For more information regarding Springtown, visit: http://springfieldincrediblepizza.com/family-fun/ipc/fair-grounds/spring-town/
For more inforamtion regarding Lost in Space, visit: http://springfieldincrediblepizza.com/family-fun/ipc/fair-grounds/lost-in-space/
About America's Incredible Pizza Company
Headquartered in Springfield, MO, with six locations nationwide and three in Mexico, America's Incredible Pizza Company has been voted the #1 Family Entertainment Center in the world two times. The IPC experience includes an all-you-can-eat, high quality food and pizza buffet, themed dining areas, private party rooms for kids birthday parties, and a "fairgrounds" fun center loaded with games, rides, and attractions for family members of all ages. IPC's Family Entertainment Complexes range in size from 27,000 square feet to 97,000 square feet. You can find more information at IncrediblePizza.com or find us on Facebook.