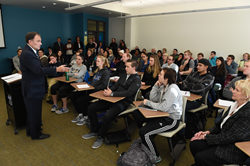 If you get a good education, your chances are better you're going to have a good job.
Salt Lake City, Utah (PRWEB) December 03, 2015
Utah Gov. Gary Herbert on Wednesday met with student leaders and a combined history and political science class on the Salt Lake Community College Taylorsville Redwood Campus to give a quasi pep talk before opening the floor to questions.
"I can tell you from my vantage point as governor, we've got to have a well-educated population, not just for quality of life, which is a good part of it," Herbert said. "I think education takes some of the coarseness out of life and allows us to have a better society. If you get a good education, your chances are better you're going to have a good job. The ability to support yourself and your families and to contribute and give back to society are enhanced if, in fact, you have a good education."
Herbert fielded questions about air quality, the state's economy and his path to becoming governor. SLCC President Deneece G. Huftalin praised student leaders for volunteering their time, which she said enhances their own college experience. Herbert also urged students to set goals. "If you don't know where you're going, any road will take you there," he said. "You've got to know where you're going and believe in how to get there."
The governor is visiting Utah System of Higher Education institutions throughout the state before and after the 45-day legislative session that begins Jan. 25. Herbert last month toured SLCC's Meadowbrook Campus and the Utah Refugee Education and Training Center there, hearing from refugees about the need for continued state support for the center.
Salt Lake Community College is an accredited, student-focused, comprehensive community college meeting the diverse needs of the Salt Lake community. Home to more than 60,000 students each year, the College is Utah's leading provider of workforce development programs. SLCC is also the largest supplier of transfer students to Utah's four-year institutions and a perennial Top 10 college nationally for total associate degrees awarded. The College is the sole provider of applied technology courses in the Salt Lake area, with multiple locations, an eCampus, and nearly 1,000 continuing education sites located throughout the Salt Lake Valley. Personal attention from an excellent faculty is paramount at the College, which maintains an average class size of 20.