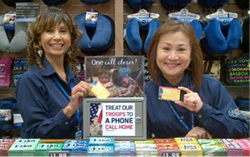 "There's definitely a need to do something for the troops," noted Justin Butterfield, Hudson Group's General Manager at San Diego International Airport. "We have one of the world's largest airport USO's and it is great to be able to partner with them."
East Rutherford, New Jersey (PRWEB) December 04, 2015
Hudson Group, the largest North American travel retailer, has reached a milestone with over $1 million in customer donations of phone cards to the military. This equates to more than 79 thousand cards.
The pre-activated AT&T cards, which retail for $15 each, allow troops to call home to their families and friends, as well as provide Internet access for free. They work from landlines and payphones across the globe, including war zone locations. Soldiers carry minimal items with them and are not always allowed to carry a cell phone while on active service. The donations are included within care packages to military organizations.
"There's definitely a need to do something for the troops," noted Justin Butterfield, Hudson Group's General Manager at San Diego International Airport. "We have one of the world's largest airport USO's and it is great to be able to partner with them."
He added that customers are so appreciative that they'll sometimes buy five or ten cards at a time to donate, with repeat customers purchasing them every time they're at Hudson.
The promotion started in late 2014 and exists in twenty-seven Hudson Booksellers, Hudson News, and Hudson airport store locations.
Seattle-Tacoma International Airport customers have donated the most (25,178 cards or $377,670); this is followed by San Diego International Airport (15,170 cards or $227,550); with Los Angeles International Airport the third most (13,637 cards or $204,555).
About Hudson Group:
Featured on CBS's "Undercover Boss" show, Hudson Group is the largest travel retailer in North America. It is a wholly-owned subsidiary of international duty-free travel retailer Dufry AG (DUFN) of Basel, Switzerland. The company operates over 700 Hudson, Hudson News, Hudson Booksellers, cafes, specialty retail and duty free shops in 70 airports and transportation terminals in the United States and Canada. For more information, please visit http://www.hudsongroup.com/.