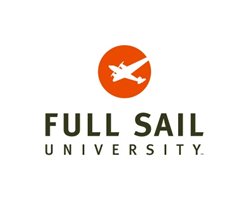 "This accolade showcases and honors the talents of our students and graduates inside of the fabric of the education that our university provides."
Winter Park, FL (PRWEB) December 04, 2015
Full Sail University is proud to announce that it has been named by the national entertainment publication, The Hollywood Reporter, as one of the 2015 "Top 25 Music Schools" within the feature titled, "Instrumental Institutions." The magazine is set to hit newsstands December 4.
Unveiled by The Hollywood Reporter, both online and in print, the article opens by stating, "From New York to Nashville (not to mention Seoul and London), a new generation of film scorers, songwriters and music industry execs will come out of these top-ranked schools." Full Sail University appears on the list alongside Juilliard, Berklee, London's Royal College of Music, Conservatoire de Paris, Seoul Institute of the Arts, and Yale, among others, and was highlighted for its curriculum in Recording Arts, Music Business, and Show Production.
This latest feature marks the third year in a row that The Hollywood Reporter has included Full Sail University as a featured Music School: in 2014 Full Sail appeared on the "Top 25 Music Schools" list, in addition to being named one of only five "Music Business Schools with Buzz" in 2013.
"We are once again honored to be included on The Hollywood Reporter's Top 25 Music Schools list this year," said Dana Roun, Full Sail University's Director of Audio Programs. "This accolade showcases and honors the talents of our students and graduates inside of the fabric of the education that our university provides."
The article spotlighted notable Full Sail University alumni: GRAMMY and Latin GRAMMY Award-winning producer, Sebastian Krys, and Academy Award-winner for Best Achievement in Sound Mixing for Inception, Gary Rizzo. Both Krys and Rizzo were inducted into the Full Sail University Hall of Fame in 2009.
About Full Sail University:
Full Sail University is an award-winning educational leader for those pursuing careers in the entertainment and media industry. Founded in 1979, Full Sail has been recognized as one of the 2015 "Top 25 Graduate & Undergraduate Schools to Study Game Design" by The Princeton Review, one of the Best Music Programs by Rolling Stone Magazine, and one of the Best Film Programs by UNleashed Magazine. Full Sail was named the 2014 "School/College of the Year" by the Florida Association of Postsecondary Schools and Colleges, received the "21st Century Best Practices in Distance Learning Award" from the United States Distance Learning Association, and was recognized as one of the Top 100 Social Media Colleges by Studentadvisor.com.
Full Sail University is a Graduate and Undergraduate degree-granting institution offering on-campus and online degree programs in areas related to Art & Design, Business, Film & Television, Games, Media & Communications, Music & Recording, and Web & Technology. Full Sail graduate credits include work on OSCAR®, Emmy®, GRAMMY®, ADDY®, MTV Video Music Award, and Video Game Award nominated and winning projects.