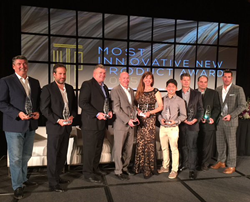 I'm grateful to our employees and partners who made winning this award possible. - Perry Teevens CEO
San Diego, CA (PRWEB) December 06, 2015
Comhear Inc. announced that MyBeam™ has been selected as a winner in the Software and Digital Media Category at CONNECT's 28th Annual Most Innovative New Product Awards. CONNECT, a premier innovation company accelerator in San Diego that creates and scales great companies in the technology and life sciences sectors, annually hosts this prestigious competition. The competition begins in each year in the spring and culminates in the awards ceremony in December, recognizes and lauds groundbreaking products released within the last 18 months from San Diego-based innovation companies.
MyBeam™ is a revolution in personal audio and conferencing technology, creating a 360 degree sound experience without the need for headphones. Sound beams are directed to each ear, enabling listeners to better locate sound sources, even with their eyes closed
Comhear CEO Perry Teevens commented after the event, "CONNECT is an excellent organization and a great platform for innovative companies to gain recognition for their products. Making it to the finals and eventually winning this category has been a thrilling experience. I'm grateful to our employees and partners who made winning this award possible."
Winners were selected from the following eight categories: Aerospace, Security & Cyber Technologies, Cleantech, Communications & IT, Life Science Diagnostics & Research Tools, Mobile Apps, Pharmaceutical Drugs & Medical Devices, Software & Digital Media and Sport & Active Lifestyle Technologies. Each of the winners were recognized last night, December 1, at the 2015 Most Innovative New Product Awards presentation and dinner.
ABOUT Comhear Inc.
Comhear believes in sound that moves you. Founded in 2013, Comhear is an audio technology company that brings people closer together through pristine communication, and enhances immersive entertainment with the physical sensation of sound you can practically touch. Consumer Electronics Speaker and Headset OEMs, Enterprise TEMs, Kiosk systems manufacturers and integrators and Gaming/VR platforms benefit from Comhear's revolutionary beamforming services, which add vocal clarity and customization to audio and conferencing systems.
Comhear products are powered by our patented KAP™ software, which gives you wider, more natural soundscapes while protecting long term hearing acuity. This passion for healthy audio, combined with a deep understanding of how the brain processes sound, enables Comhear to develop products and solutions that adapt to your environment and transform the listening experience.
ABOUT CONNECT
CONNECT is a premier innovation company accelerator in San Diego that creates and scales great companies in the technology and life sciences sectors. By creating an environment in which entrepreneurs and C-suite executives have access to the people, capital, and technology resources they need for success,
CONNECT has assisted in the formation and development of more than 3,000 companies since 1985. Widely regarded as one of the world's most successful organizations linking entrepreneurs and C-suite executives with the resources they need for the commercialization of innovative products and services; our program has been modeled in more than 50 regions around the world.