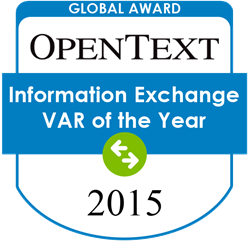 "We appreciate the recognition of the OpenText IX VAR of the Year award", said Barry Malter, President of Advantage Technologies.
Las Vegas, NV (PRWEB) December 07, 2015
Advantage Technologies, Inc. has been selected by OpenText as its Information Exchange 2015 Global VAR of the Year. This marks the second time in four years that Advantage Technologies has received this level of recognition; achieved for helping customers leverage their business information requirements around leading OpenText strategic offerings, including RightFax and related Cloud solutions.
Information Exchange is one of five business pillars of OpenText, a leader in enterprise information management (EIM). OpenText gives the award to the partner that best shares the goals, values and vision of the company; and complements Information Exchange solutions, which facilitate efficient, secure and compliant information exchange for organizations around the world.
"2015 has proved to be one of our busiest years in recent memory," said Jeff Kunstler, VP of Technical Services of Advantage Technologies. "Customers appreciate our ability to design and implement end to end solutions with the technical resources to support everything by our North American help desk, 24x7x365. In addition, our RightFax offerings coupled with healthcare EMR systems has increased exponentially over the past 12 months. With our new healthcare direct initiatives, I believe our technical team is well positioned to collaborate with customers as they evaluate the next phase of healthcare integrations."
"We appreciate the recognition of the OpenText IX VAR of the Year award", said Barry Malter, President of Advantage Technologies, "Our sales and support teams understand that creating long term customer relationships where we provide a high value proposition, and a commitment to customer service, is paramount to our success. I think 2016 will be another strong year for our company as major changes in the Open Text Partner program were recently announced that de-authorized most RightFax OpenText partners. While Advantage Technologies continues to be an OpenText Platinum ASP Partner, we are nevertheless proactively adding to our staff to ensure we can continue providing the level of service our customers and partners have come to expect from us for almost 20 years."
The OpenText and Advantage Technologies partnership brings value to customers by providing leading On- Premise, Hybrid, or Cloud offerings around leading OpenText solutions including RightFax, Fax2mail, RightFax Connect, Secure Mail, and Secure MFT solutions; as well as localized Enterprise Support and Service from Advantage Technologies, a trusted VAR to more than 1000 companies worldwide.
About Advantage Technologies. Inc.
Advantage Technologies has been providing on-premise and cloud-based enterprise fax solutions as well as automated electronic document delivery solutions for close to 20 years. Our team has completed thousands of successful system deployments worldwide in such industries as finance, insurance, banking, government, manufacturing, transportation, and healthcare. Our North American helpdesk and sales team are certified on OpenText RightFax, Alchemy, RightFax Connect, Secure Mail, Secure MFT, Brooktrout fax boards and FoIP software, Dialogic Media Gateways, Sonus Gateways, and cloud-based fax solutions. Advantage Technologies is a leading OpenText Platinum Partner and Authorized Support Provider (ASP). Throughout our partnership with OpenText, Advantage has been recognized as RightFax Partner of the Year, IX Partner of the Year, and an IX Partner Leader.
For more information, please call Advantage Technologies at 1-866-730-1700 or visit http://www.ATechnologies.com