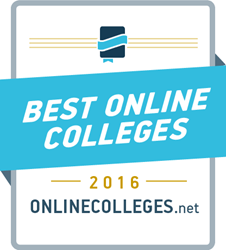 Mount Mercy's size allows our staff and faculty to treat students as individuals and be highly responsive to their needs
Cedar Rapids, IA (PRWEB) December 07, 2015
OnlineColleges.net rankings are instrumental tools for students choosing which online college is best suited for their unique needs.
"What sets us apart from other institutions is our class schedule, which allows students to focus on one class at a time for five-week sessions," said Jenna Hunt, Mount Mercy's online program coordinator. "This format makes it easier for working adults to manage their coursework along with their other professional and personal commitments, while still progressing toward their degree in a timely manner."
Another distinguishing characteristic is one that resonates throughout Mount Mercy's online, undergraduate and graduate programs—the personal attention students receive from the university's faculty and staff members.
"All online students receive one-on-one advising sessions with their academic advisor, as well as support from Mount Mercy's academic services such as the library, tutoring center and career development office," Hunt explained. "Mount Mercy's size allows our staff and faculty to treat students as individuals and be highly responsive to their needs."
Mount Mercy offers three online programs—Bachelor of Business Administration in Business, Bachelor of Business Administration in Human Resource Management and Bachelor of Science in Nursing—and is accredited by the Commission on Collegiate Nursing Education and the North Central Association of Colleges and Schools, The Higher Learning Commission.
Find more information about Mount Mercy's online programs at https://onlineprograms.mtmercy.edu.
Find more information about OnlineColleges.net ranking at http://www.onlinecolleges.net/iowa/.